June 13, 2017
You CAN Get Away With Your Family
Posted by: Nancy Skee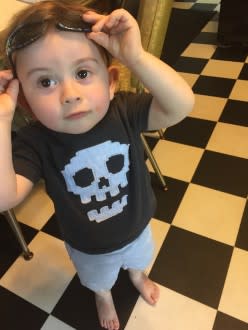 Can I tell you how happy I am right now? I'm tripping over the shoes on the steps, the firetrucks on the side porch, and I'm picking glow sticks out of the baked oatmeal. Dishes are always piled in the sink and someone always wants to eat. The little kids are arguing over Rescuebots and at the same time are thrilled with having one another to play with. The big kids are talking, playing games, and reminiscing about the big wheel races they had 30 years ago in Nana's driveway.
I love that now I'm the Nana and everyone's at my house - which just happens to be a seven-room Bed and Breakfast Inn. I am lucky enough to be host to my sister and husband, all her kids and their spouses, all their babies, and my own kids and grandkids.
What's going on? It's our first family reunion! When we're not in the pool or eating (which is really all day haha!), we're hanging out on the porch. Yesterday we had our very first family photos done - 19 people in 95 degree weather - taken by our Inn's wedding photographer and my former colleague Shareen. She was great and was willing to spend a lot of time with us to get things just right. Can't wait to share some of those with you soon.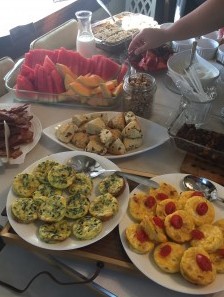 Today we'll be making the trip that we've been doing for thirty-some years since all the cousins were little. We're going out to pose by the giant pretzel outside of Sturgis in Lititz, and will be hitting up Wilbur Chocolate. After that, we'll be heading out to Strasburg Creamery where they have the best homemade ice cream anywhere. If tradition has any say in it, Eric will trip and fall as he's running from the parking lot into the store.
We'll likely spend the rest of the afternoon in the pool and maybe order pizza tonight. Who knows? What I do know is that it's great to be surrounded by my family. It's also great that at the end of the day everyone's got his own room, his own bed, his own bathroom - his own little place to retreat and regroup and be ready for the next event. We've decided that this is going to be an annual affair at the Inn for my family. I want the babies to grow up with the same kinds of fun cousin-memories that their parents and aunties and uncles have.
Some vacations are meant to be private get aways from your families. Some are meant to be spent with your families. A season for each, right? Call me if you want the Inn for your family so you can make some great falling-down fun, or call me if you just want to leave everyone at home and have your own recharging time. I'm now pretty good at planning both. I'll catch you later. The side porch is beckoning, the coffee is hot, and Grahm, Eric and Bill have just returned from Achenbach Bakery with donuts. Gotta hurry. Bill's a cop and you know how they are with the baked goods..