Mark Your Calendars!
2020 Upcoming Events
These are just of few of the events to look forward to during your stay with us.
March
6 & 7 – Murder Mystery Dinner Theater: Murder at the Deadwood Saloon - or - 1st Annual Deadwood Poker Tournament. Olde Square Inn. Advanced registration and booking required.
14 - Sight and Sound Theater will open Queen Esther which will run through December 31, 2020. Get your tickets soon. Seriously. They book like crazy.
April
12 - Easter Sunday.
24 & 25 - Icy Spicy. A 4th Friday event in Mount Joy.
May
10 - Mother's Day. MAKE-A-WISH CONVOY through downtown Mount Joy. Get a bird-eye view of this annual event from our beautiful balcony!
17 - Pool opens this week!
23- Memorial Day Parade Downtown Mount Joy.
June
7 - Marietta Garden Tour.
July
4 - Fourth of July Weekend - make your reservations early!
25 - Cruisin' Cuisine Car Show. A 4th Friday event in Mount Joy.
Antiques, Shops & Outlets
Around Lancaster County you can shop-til-you-drop, or casually peruse shops to select that perfect memento to remember your trip. So many places to check out within an easy drive. With only a fifteen-minute drive, you'll find yourself in Columbia, a town fast becoming known as Lancaster County's new antique capital. Many of the interesting items around Olde Square Inn were found at Burning Bridge!
Mount Joy:
Adamstown (35 min.):
Columbia (15 min.):
Intercourse (29 min.):
Lititz Downtown (22 min.):
Lancaster Downtown (20 min.):
Many, many unique entrepreneur-owned shops populate downtown Lancaster up and down Prince and Queen Streets. These are just a few of the interesting places you'll find.
Lancaster Outlets and Mall (22 min.)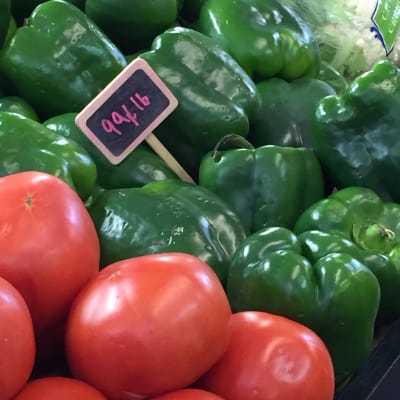 Farmers Markets
Touting not only fresh-from-the far fruits and vegetables, Lancaster County farmers markets also offer a selection of meats, cheeses, baked goods and even local crafts and unique gift items.
Bird-in-Hand (25 min.)
Ephrata (32 min.)
Lancaster (20 min.)
Manheim (12 min.)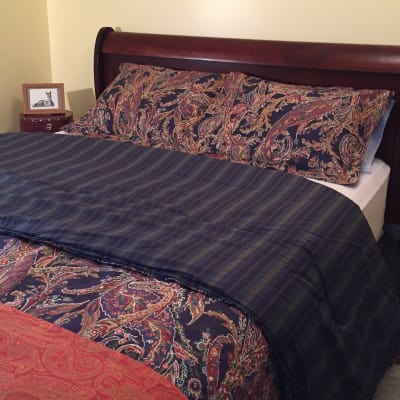 Quilts and Fabrics
These beautiful hand-made quilts are used by many not just as gifts or to keep warm on a cool night, but are also a part of an Amish or Mennonite dowry. Lancaster County quilts are considered collectable works of art.
Bird-in-Hand (24 min.)
Creative Home Shoppe 2710 – Olde Philadelphia Pike – (717) 393-1555
Fisher's Handmade Quilts – 2713A Old Phila. Pike – (717) 392-5440
Glick's Craft Shop – 333 Monterey Rd. – (717) 656-8755
Denver (43 min.):
Intercourse (28 min.):
Restaurants
Whether you want to grab a quick bite or relax with a sumptuous meal and glass of wine, you'll have a wide variety of fine restaurants from which to choose.Many are within walking distance of Olde Square Inn! Here are some favorites.
Mount Joy:
Mount Joy Darrencamp's Shopping Ctr.
Mount Joy Giant Shopping Center
Columbia (17 min.)
Lancaster Area (16 min.)
Lancaster Downtown (22 min)
Wrightsville (17 min.)
Theaters, Shows & Music
Whether you're looking for traditional theater and musicals or off-the-cuff concerts and shows, area venues offer a wide variety of choices. What a great way to relax with family and friends!
Mount Joy
Bird-in-Hand (26 min.)
Lancaster (17 min.)
Mount Gretna (22 min.)
Manheim (20 min.)
Paradise (30 min.)
Ronks (30 min.)
Wineries
With a visit one of our wineries you can find yourself sampling vineyard specialties, enjoying a personalized tour, indulging in local cuisine, or relaxing at an evening concert.
Mount Joy (9 min.)
Bird-in-Hand (22 min.)
Manheim (14 min.)
Middletown (19 min.)
THIS WEEK IN LANCASTER COUNTY – In addition to the restaurants, shops, and attractions listed above, click here to find what's being featured in Lancaster County this week!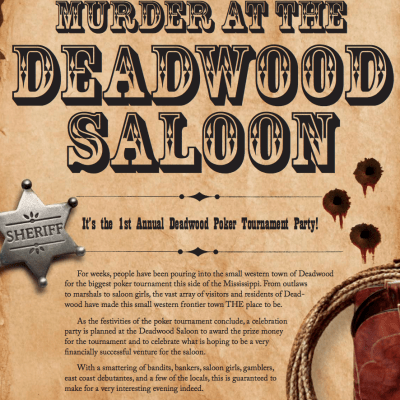 Murder Mystery Weekend
MURDER AT THE DEADWOOD SALOON!
MURDER MYSTERY WEEKEND - November 1 & 2
This weekend is blocked off on our reservations calendar, so call 717.653.4525 or email nancy@oldesquareinn.com to book your room.
Ticket prices include a Friday evening Meet and Mingle with Bites and Drinks, a Saturday evening party which includes a catered dinner, dessert, drinks, and prizes.
Tickets are $75 pp/ $140 couple and are in addition to the cost of your room
Friday
6:30-7:00-ish pm
Light hors 'd oeuvres and Deadwood Drink
Background/Q&A on how the game is played.
Dinner on your own
Saturday
8:30-9:30am
Serving breakfast in the dining room.
9:30am-6:30pm
You have the day to yourselves to explore beautiful Lancaster County. If you need some ideas, we'll help you out at breakfast.
6:30pm
Guests arrive. Start with Saloon eats and Deadwood Drinks!. When you arrive you'll receive objectives that you'll need to complete as you mingle during our catered dinner.
Chat with your fellow mystery-goers during a fantastic Old West Dinner Buffet to discover their personalities and characters before somebody takes a hit (it could be you!!). Spend your Murder Mystery Bucks to bribe other partiers for clues.
After the murder, complete your second set of objectives and check the evidence given by the Private Investigator. Use the information you've gathered to determine the killer!
Prizes will be awarded for:
Dressed to Kill (Best Dressed)
Drama Queen (For male or female Best Character Portrayal)
Smoking Gun Award (You Named the Killer!)
Moneybags (Most $$ at the End of the Evening)
Sunday – Did you move your clock back last night?
8:30-9:30am
Breakfast in the dining room.
11:00am
After
Like us on Facebook and review us on TripAdvisor.