January 5, 2016
Share Your One Word at Olde Square Inn
Posted by: Nancy Skee
Happy first Tuesday of the year! Hope it's starting out well for you and I hope you had a chance to think about what your One Word might be for 2016. In place of making New Year's Resolutions, you choose a word that will be your guiding value for the year. The concept is Jon Gordon's and he advises that you look in – what do you want to be or do, look up – how will God guide you, and look out – how can you live it?
I'm excited that many of my family and friends have embraced this idea, and I love hearing how it plays out in their lives. One of my sisters has chosen the word "Balance" with the thought of bringing a peace to all areas of her life, while another has decided on "Challenge." Friend Eileen has "Acceptance," deciding not to get too worked up over life's realities. Daughter Aimee has picked "Joy."
At the top of my checklist is One Word to help me keep focus in my day.[/caption]My word for the New Year is "Learn." Here's how I like to use it: When I wake up, I ask, "What will I learn from others today, and what do I want to focus on today?" So now I'm open to what happens, and I also have a goal.
Next I go to my list. I'm a checklist person because with so much going on during the day, I can get overwhelmed with deciding what to do first and having a list lets me think less haha. At the top of my list I write my word Learn, then the first two or three things on my list would be the learning that I want to be sure to hit. Sometimes I set it up the night before so I have even less to think about when I start my day. Of course I cross things off as they're accomplished - so exhilarating!
With the Inn, I want to learn how to bring even better experiences to my guests and have lots of ideas on how to do that. A friend said to me once, "Nance, you always have a lot of ideas, but you never carry out all of them." No kidding! That's why they're call ideas and not edicts; they are a like treasure chest full of options from which you can choose. I love having lots of ideas floating around. Sometimes you just have to ignore people, know what I mean?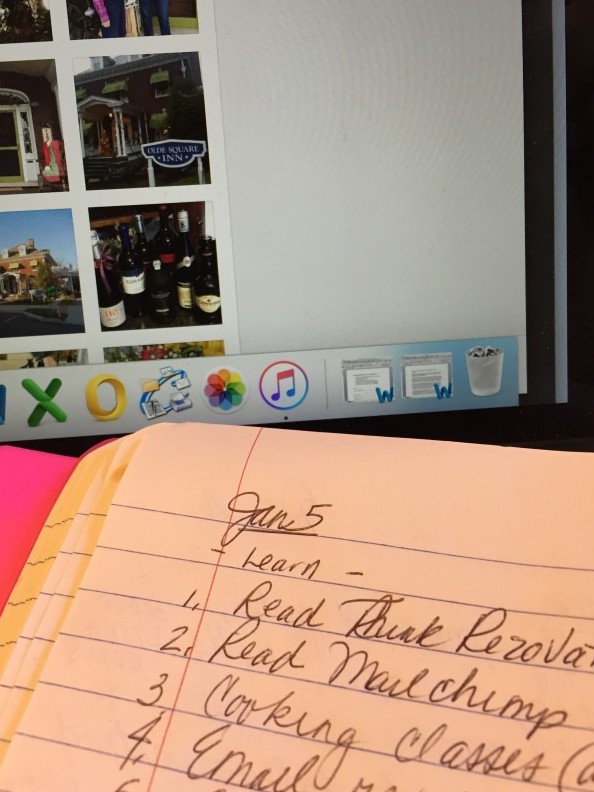 Anyway, the learning I have on my January list is to:
Learn how to create a monthly newsletter so I can keep all of you up-to-date on area happenings and offer discounts or packages
Learn what legalities I need in place to develop a cooking demonstration package. Wouldn't that be a blast?! (Not the legalities part - barf - but the rest of it.)It's so much fun to show others how easy it is to make and serve delicious food, and I think you would enjoy staying at the Inn, sampling some dishes, and taking home great recipes.
Cozy up beside your in-room fireplace during your January retreat. I'm looking forward to learning what you have chosen as your One Word. You can even take it a step further: Make your new reservation for January and email me at nancy@oldesquareinn.com with your word and what it means to you. Upon check out you'll receive a 10% discount for one night, 15% for two nights, and 20% for three or more nights. How can you not love that?! Even if you haven't decided on your One Word yet, come on out and think about. You still get credit for that!