May 23, 2016
Mother's Day or Mayo Day - Great Cheese Crisp Recipe That's So Easy You'll Laugh
Posted by: Nancy Skee
I got this request just the other day:
Dear Olde Square Innkeeper,
I've been so busy watching the Mulch Guys spread six scoops of fine black mulch throughout the grounds, that I nearly forgot to plan something delicious for Cinco de Mayo and Mother's Day. Would you have a tasty recipe that would be versatile enough for both occasions and yet simple and quick? The men will be returning with several more scoops of macho - I mean mulch - and I will again be very busy supervising. Thanks, from one of your Faithful Followers!
Dear Faithful Follower,
Yummy cheese crisps with a side of salsa and a fresh blueberry smoothie.[/caption]This is your lucky day as I have just the thing and will be happy to pass along our Cheese Crisp recipe. I'm certain you'll find they meet all your criteria: 1.) delicious, 2.) versatile, and 3.) quick.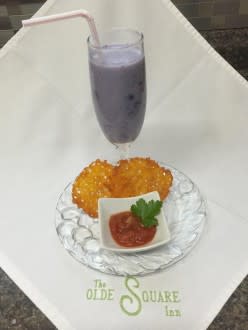 We sometimes serve them as a starter for breakfast at the Inn. The richness of the crisp and chewy cheese paired with the mildly tangy salsa makes a great foil to the ice-cold sweetness of the fresh blueberry smoothie. Use a champagne glass for the smoothie and add a bit of cilantro for a beautiful presentation. Moms and others will love it for any occasion.
(Note: I personally despise cilantro and never use it. My daughter-in-law Nicole sent me a research article about how people either love it or hate it, based on some ancient cilantro gene either present or missing in their DNA...or something like that. I'm missing it.)
Anyway, Faithful Follower, these are so easy that you can do up a big batch of them for your Cinco de Mayo gathering and still have time for your supervisory duties. Put them in big colorful bowl along with a side of hot salsa and a pitcher of a fabulous Tequila drink of your choice, and you'll be rockin'. Invite the Mulch Guys if you want.
Cheese Crisps So Easy You'll Laugh
Ingredients
Shredded Cheddar Cheese. That's all.
Use one tablespoon of shredded cheese per crisp.
Procedure
You will also need to get a cookie sheet, parchment paper (not waxed paper!), a tablespoon, and to preheat the oven to 375.
Use a tablespoon to plop a little pile of cheese on the cookie sheet. These will spread as they bake, so be sure to leave room between them.
Put the tray in the oven for 8 minutes.
When you take them out, blot off the oils that will come to the top. The crisps won't be crisp until they cool off which is kind of neat, because they can be draped over the top of a tequila bottle to make a little dish. Fun!
Use a paper towel to blot the oils off the tops of the crisps.

That's all you have to do! So easy, right? I hope you're laughing by now. And don't forget that all ovens are different, so you might be baking them a little longer or a little shorter. You might like them a little more crisp or a little more chewy.
You can even make them larger it you'd like; use more cheese and spread it out evenly so it all bakes. You might have to leave it in a bit longer, too. You can't mess these up unless you leave and burn them up in the oven. Aside from the best part being that they are delicious, the other best part is that you can make these ahead of time and store them in a loosely covered container. Party on!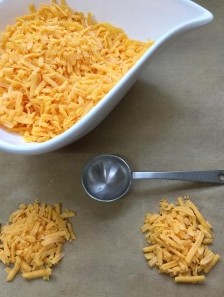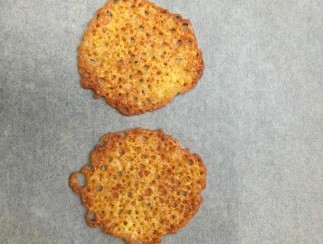 There's still time to treat your mom to a beautiful weekend at the Inn or to purchase a gift certificate that can be emailed in time for you to seem always prepared.
And by the way, did I mention we're part of the Mount Joy's Home and GardenTour on May 15? Come out and look at our lovely, fine black mulch.