February 16, 2016
Joan's Valentine or Any Time Scones Recipe
Posted by: Nancy Skee
I always have a great time with our guests, but particularly so this weekend. We had first-time guests, returning guests, everyone was happy and relaxed, and breakfast in the dining room was like a reunion of long-time friends. To paraphrase Barry who stayed with us this weekend, "It was a panic!" They talked about their dining experiences at Greenfield Inn, John J. Jeffries, Rachel's Creperie, Belvedere Inn, Harvey's, Mosby's and Bube's. Some went out for dinner, some ordered in and watched movies. They had a blast at Burning Bridge Antiques, in downtown Lancaster, and at Lititz Fire and Ice Festival. They became fast friends, and someone suggested they should get together at the Inn for an annual Valentine getaway.
Who doesn't love flowers, chocolates, and champagne?![/caption]Barry and Phyllis brought me a a cute, cute set of chocolate utensils from Wilbur Chocolate and asked me to join them for dinner at Tres Hermanos down the street. I couldn't go, but I've got a raincheck! Patricia and Paul presented both Amazing Joan and me with beautiful tulips, and I was graced with a bottle of champagne. In turn, we treated all of our guests this weekend to a split of champagne and some delectable chocolate covered strawberries.
Everyone enjoyed breakfast each morning. For Valentine's Day we served salted caramel pears as our starter, and our main course featured spinach quiche topped with tomatoes and herbs, pan potatoes with Sweedish breakfast meatballs, and heart-shaped cranberry scones. Dessert was cheesecake topped with treats from Home Run Candies. Even Barry finished off everything, and he doesn't like to try new things. Score!
The scones were a hit, and so fun in a heart shape. Amazing Assistant Joan has been making these scones for me and my fellow teachers since she and I worked together back in my eighth grade Family and Consumer Science days. She'd bring them in still warm, and I'd scarf down a couple right away with a hot cup of coffee. It was the best way to start the morning, and now she said I could share the recipe with you. Bring me some when you pull them out of the oven. I'll be here waiting.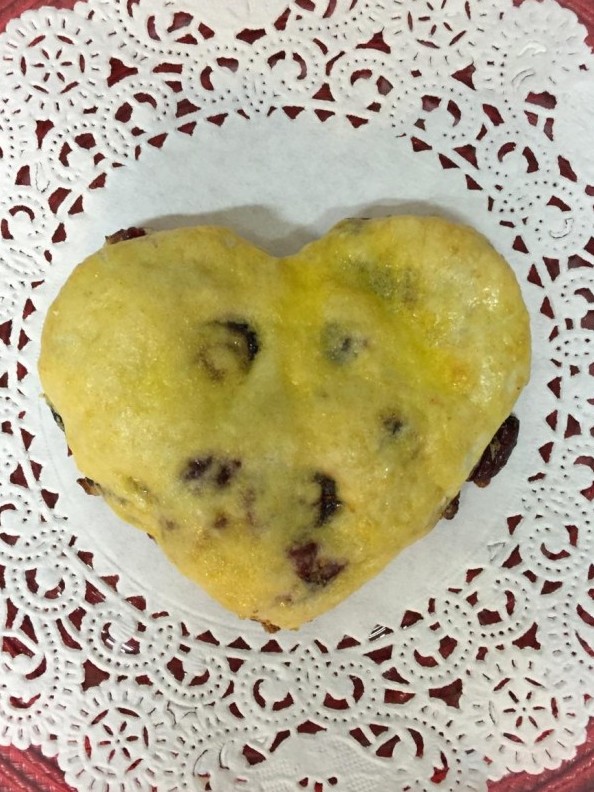 Awesome Joan's Awesome Scones
Ingredients:
1 and 3/4 c. flour
3 T sugar
2 1/2 t. baking powder
1 t. grated orange peel
1/3 c. butter
1/2 c. craisins (or blueberries, chocolate chips, cinnamon chips, etc.)
1 egg, slightly beaten
4-6 T half and half
1 egg, slightly beaten to brush on top

Procedure:
Heat oven to 400 degrees.
In a medium bowl combine first four ingredients. Cut butter into flour mixture until it resembles coarse crumbs.
Stir in craisins, one egg, and just enough half and half so dough leaves the sides of the bowl.
Turn on to lightly floured surface and knead ten times.
Roll into 9" circle and slice like a pie into 12 wedges. (In our case she rolled out the dough and used cookie cutters to make the heart shape.)
Place the individual wedges on a buttered cookie sheet or a cookie sheet lined with parchment paper (my preference every time), then brush the tops with the other slightly beaten egg.
Bake 10-12 minutes. Immediately remove scones from cookie sheet and take some (but never the cinnamon chip ones) to the Innkeeper at Olde Square Inn.

Hope you had a great weekend with people whose company you enjoy. Also hope that you can take some time to come out to stay with us, make some long-lasting memories, and meet some new friends. Can't wait to meet you or welcome you back!