June 14, 2016
Grilled Watermelon: A Great Summer Recipe
Posted by: Nancy Skee
Love these beautitful weather days when I can shed several layers and - best of all - am out of the boots and confining footwear. There's something about the way sandals and flip flops make that slapping sound when you walk that totally sounds like summer.
Another thing I love about the season is that strawberries and watermelons and other delicious fruits and vegetables are either here or on their way. The warmer weather calls for lighter fare and we've already started serving our delicious and refreshing grilled watermelon as a starter.
It's grilled for just a few minutes on one side and then topped with walnuts, feta cheese and raspberry pomegranate dressing. The sweetness of the watermelon along with the tanginess of the cheese and the crunch of the walnuts combine to make great flavors and textures. It's party in your mouth, and when you serve this up and people will think you went to France to study culinary when all you really did was read my blog in your pajamas! Ha! You're a genius!!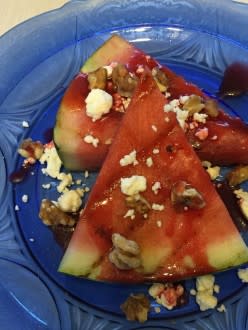 Grilled Watermelon
Ingredients
Watermelon quartered and sliced as thick as you like. I go about inch maybe.
About 1T crumbled feta cheese per slice.
About 1-2 T walnut pieces pieces per slice. I also thought toasted buttered almonds would be good with this. I might try that next time.
About 1 T Ken's Raspberry Pomegranate Dressing, or any other delicious fruity/tangy dressing.

Procedure
Place quartered slices on a hot grill. It just takes a few minutes for the heat to make those nice grill marks and bring out the extra sweetness of the melon. You only need to do one side. Remove from grill.
Cut the quartered sliced in half and place the two pieces on a plate so they're attractively perpendicular-ish.
Sprinkle on feta and walnuts.
Drizzle on dressing. You don't need a whole lot.
Serve up warm or cool and listen to people say, "I've never had grilled watermelon! This is great!"

That's all there is to it. I guarantee this is going to be a summer favorite. You can make it for yourself or just come over and I'll make it for you! See you soon. :)