May 1, 2015
Gimme an A! Gimme and O!
Posted by: Nancy Skee
Very glad it's May, as April was a very hectic month for our family. Of a more personal nature, many of you know that my daughter Aimee has been going through a lot of testing to get herself on the list for a kidney transplant.
She has been on dialysis for for almost a year an a half and moved up from Florida last May to make the whole transplant business easier to deal with.
I can't say enough good things about the care and treatment she receives at Pinnacle Health in Harrisburg. They have been thorough in everything they've done, and the support team works together to make sure patient and family don't go nuts. We are very lucky to have them. With her four surgeries in three and a half weeks, I was a little wacky. Aimee dealt with it in a more chipper manner than I did, I must admit.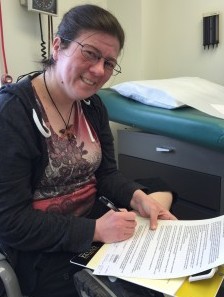 At last, all tests are cleared and she has officially signed the papers to happily accept a donor kidney. (See left, haha.)
Now we wait for a compatible donor, living or otherwise. If you happen to be blood type A or O (negative or positive!) and aren't using one of your kidneys, the team at Pinnacle Health would be happy to test you to see if you could be her donor. Testing and surgery happen at no cost to the the potential gifter. Should you be interested, email me at nancy@oldesquareinn.com - we'll chat. Enjoy this awesome weather!