March 29, 2016
Getting Ready For Great Things: the Renovations Continue - or - Don't Tell Ed the List Is Long
Posted by: Nancy Skee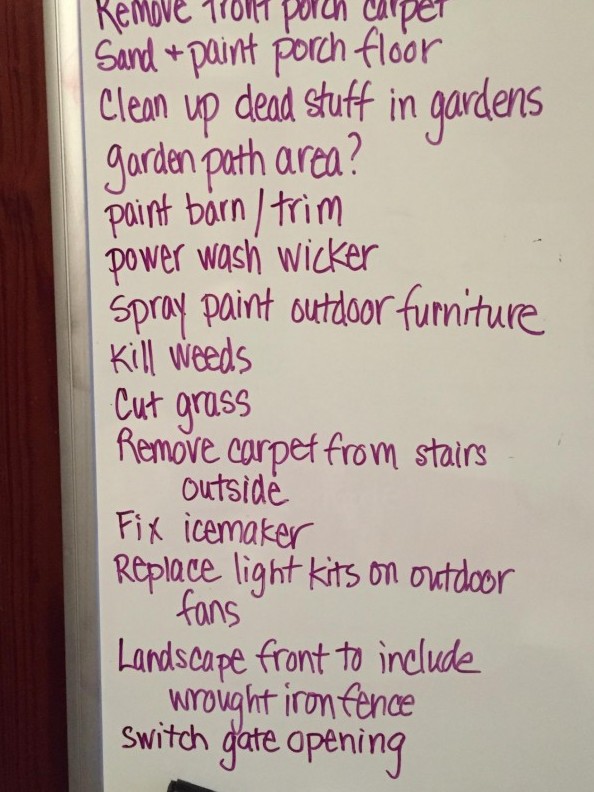 I am so excited that my sister Jo and my brother-in-law Ed are making the drive out from Indiana to come out for a visit. I've been anticipating this like my six-year-old self would have been waiting for Peeps at Easter or gifts at Christmas. As I've reported before, in the evenings we laugh and talk and drink and laugh and eat and talk and laugh, and I feel revived and renewed for having spent time with them.
The other part I love is that they help me do all my work. I figured out that if I make a list of things that need to be done all I have to say is, "Oh, I had a few things...." and Ed will get his work clothes and tools unpacked. He's like a plow horse in planting' season and I can usually pay him off with a couple of drinks and dinner at Mosby's. It's a win-win-win situation: Jo and I work and hang out together, Ed does the big stuff, and we get to eat wings. What's not to love (from my end of it, anyway!!)?
So what's with all this sprucing-up? We are getting ready for spring and summer and some great things that are going to be happening in Mount Joy and on Main Street! Are you ready for a sneak peak at just a few of the upcoming events? Details will follow in subsequent blogs. Here we go:

I am energized just thinking about all these fun things coming up, aren't you? Hope you had a great Easter weekend and lovely spring break; I had an awesome time with my kids and grandkids, and now the fun just keeps on keepin' on. Come out and visit us soon!