November 1, 2016
Creating Memories You'll Treasure Forever
Posted by: Nancy Skee
Hope you made some happy memories last night whether you were trick or treating with the kids, greeting superheroes at your door, or just reminiscing about your best Halloween costume ever. I know that once the candy wrappers are cleaned up and the kids come off their sugar high, your thoughts will turn to the holidays and the folks on your gift-giving list.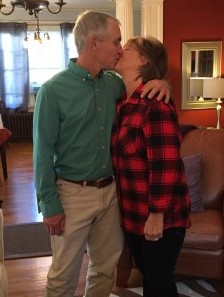 She said yes! Larry and Cindy were recently engaged when he surprised her with a ring at Olde Square Inn.
As I approach my second anniversary as Innkeeper, my thoughts turn to the wonderful guests who have walked through my door to spend time here. Their reasons for staying are as varied as the stars in the sky: they came to the Inn to escape their busy routines, to savor a relaxing dinner, to visit family and friends, to tour our beautiful Lancaster County, to enjoy some pampering, to celebrate a life event, to honeymoon, and even to be married in an intimate ceremony surrounded by those they love.
Whatever their reasons, I know they went home with some incredible memories of their time away that they'll treasure and share for a long time. I am excited to help you become a great memory-maker this holiday season with some great offers I'm going to be sharing with you through the month of November.
Just around the corner![/caption]Each week there will be a new surprise and a little extra something to make your gift of time away (for you or anyone else!) extra special. While you're anticipating our first offer, your job is to draw up your Naughty and Nice list. I'm so looking forward to helping you give great memories and to welcoming your family and friends to spend some time with us.
And hey, be sure you're on the list, too. You pick which side; we're not here to judge whether you're Naught or Nice haha!