February 21, 2017
You'll Love Our Hungarian Cooking Demonstration Event!
Posted by: Nancy Skee
I'm pretty excited to invite you to our first-ever Hungarian Night at Olde Square Inn! This special event is premiering Saturday, March 11, 2017 at 6pm. The donation is $75 per couple or $50 per person in addition to the cost of your room.
Look what I have planned for our fun Hungarian evening together!
Check in is the regular 3-6pm, but at 6:00 we'll begin the night with a reception where we can relax with a drink over some traditional Hungarian music, catch up with one another, and meet some new friends.
From there we'll move to the dining room to continue our night with a demonstration of delicious Hungarian home cooking. Even if you've never experienced European cuisine, I know you'll love trying these.
Starter:
Lesco (leh'-cho) - Onion, pepper, and tomato with sausage, sautéed in bacon drippings and served with dark pumpernickel bread.
Barackpalinka (bah'-rahk-pah'-leen-kah) - Apricot brandy.
Main:
Paprikás csirke (pah'- pree- kahsh cheer'-kay) - Chicken braised with onion, garlic and paprika, served in a smooth sour cream sauce over homemade egg noodles along with crusty bread.
Uborka (ooh'-bor-kah) - Thinly sliced cucumbers and onion with vinegar and ground pepper.
After enjoying some great foods we'll take a little break. Then you can stretch out in the living room or stay cozied up to your table for coffee and treats.
Dessert:
Makos (mah' kosh) - Sweet poppy seed and almond filling in a raised yeast dough.
Kifli (kee' flee) - Apricot filling in a light pastry dough, sprinkled with powdered sugar.
As some of you may know from my blog posts, my Little Hungarian Mother passed in the middle of December. At 95, she lived a great life where she shared her wisdom and some of her best recipes with her daughters. I would love, love, LOVE to share those with you Saturday, March 11.
The date is blocked out on our site since we want to keep everything exclusive for our honorary Hungarians, but it's easy to reserve your spot.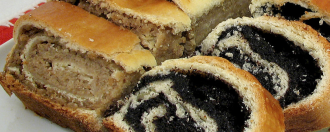 You can phone me at 717.653.4525 and I can make your reservation directly, or you can email me at nancy@oldesquareinn.com and I'll give you a call back. I'd love to see you!
I'm so excited for our first Hungarian Cooking Demonstration Event and can't wait to talk to you! We're going to have a blast!