January 3, 2017
Welcome to a New Year!
Posted by: Nancy Skee
Welcome and Happy New Year from all of us at Olde Square Inn! Hope you had a lovely time celebrating with family and friends or wonderful evening cozied up by yourself as you welcomed (or dozed!) in 2017. It's all good.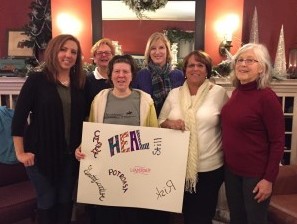 Hope you have had time to reflect and have chosen your One Word to guide you through the next twelve months. According to Jon Gordon, who also has great tips for a great New Year, you go through a three-step process:
1. Look in - think about what you need, want, and what you should focus on, what might be standing in your way.
2. Look up - ask God what your word might be.
3. Look out - to see how you might live your word and make it a part of your life.
Before the end of the year, several of us got together at the Inn to eat and talk and laugh and talk and reveal our Words. We made a poster, which hangs in my office, and each put her Word on an index card to keep in front and center as a focus. As you look at the photo, I wonder if you can guess whose Word is whose; each has a unique story.
I've decided that every last Thursday in December is going to be our One Word day when we get together for Food, Friends, and Fun. In fact we are going to meet again in February at Crafter Hours in Mount Joy to create a sign of our Word and talk about how it's going. See Karen the proprietor? She's the first on one the left.
My word that evening was "Leadership" which I've since refined because it seemed too daunting. My refined Word is LEAD - I want to lead my guests into new experiences and relaxing comforts. I want to lead my family and friends into understanding the wonderful gifts they carry within themselves and the amazing opportunities open to all of us. I want to lead my community into growing and prospering. We have so much to share, right?
Our first event at the Inn of 2017 is scheduled for March. I hope that you will mark your calendars for the last Thursday of December when you might join us for our One Word Food, Fun, & Friends night. In the meantime, stay tuned for our first Food, Fun, & Friends Event at the Inn which is slated to take place in March.
I'm excited about bringing you new experiences and am looking forward in the coming year to hearing about how your One Word has positively impacted your life. Welcome to 2017 and Happy New Year!