July 4, 2017
Tie The Knot And Relax Through The Whole Thing!
Posted by: Nancy Skee
One of the great bonuses of owning a bed and breakfast is that I get to help couples celebrate one of the most memorable times of their lives. Whether it's an elopement, an intimate wedding, or a vow renewal, I get to make things nice!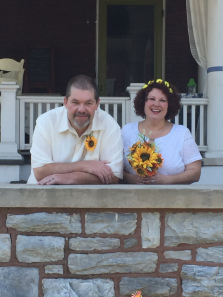 I get to make arrangements for the bouquet and boutonniere, order the cake, get the champagne, help line up the photographer and minister, create a beautiful setting for a ceremony, and provide a romantic room for the honeymoon night. The bride and groom to be can enjoy their perfect day without the stress and expense of a huge wedding.
More and more couples are choosing to focus on what's important - their commitment to one another - and are ditching the pricey party for an elegant celebration with a few others who are close to their hearts. Hmmm....that means money left over to start your lives as a couple or to put a down payment on a home. There's a plan, right?
Money Talks News discusses the trend of finding unique and inexpensive ways to have a memory-filled wedding day without investing the $35,000 that the average wedding runs. Don't worry about that, though. I can help you with everything you need including saving you tens of thousands of dollars.
Check out our Weddings and Events Packages and relax. I've got everything covered. You're free to enjoy your day and one another. I like to tell our couples that all they have to do is add the intended spouse and say "I do!"