July 12, 2016
Summer's Just Started! Fun Things to Do to Keep it Rolling
Posted by: Nancy Skee
Right after 4th of July I saw the ads in the Sunday paper. If you're a parent, kid, or in any way connected with the educational system, you know what I'm talking about. The joy-stealing, get-out-of-the-pool, stop-wearing-sandals, go-sharpen-your-pencil ads bent on robbing you of six more weeks of beautiful weather have appeared. I don't have to say it, right?
As a retired teacher my stomach hasn't dropped at the sight of back-to-school sales (Argh! Sorry! It slipped out!), but I am angry with the Merchandising Demons who wield full page color and low, low prices in an effort to remove us from enjoying the present moment. That's just not nice. Do we really need to run to the office supply store to get the stapler for 25 cents now instead of 99 cents August 31st?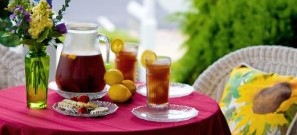 Well, actually we might, because by that time the Christmas stuff will be out and the staplers will be gone. But I thought, "Who cares! They're not the boss of me!" and I decided to wage my personal battle against the Merchandising Demons and to live in the present.
Here are 5 things I'm going to do on my end of town to keep the summer rolling. They all pretty much have to do with being in the sunshine, and you are invited to join me at any point along the way.
Enjoying your summer moments is a good way to keep the Demons at bay.[/caption]Be outside. Whether it's having coffee on the side porch in the morning, doing emails on the balcony in the afternoon, or walking through the garden deadheading flowers, I'm going to find an excuse to take it outside. I can even enjoy the outdoors in the rains since the big side porch is covered. Lucky!
Dine outside. Last night a friend and I had dinner on the front patio at Rosie's Tavola down the street. There was a little breeze, the food was delicious, and I could see the Inn from where I was sitting. That made me happy to have someplace fun so close. Now, I haven't been to the Biergarten Restaurant at Bube's Brewery yet so that's next. Why, I'll probably feel as if I'm in Mr. Bube's Bavarian homeland, but so much closer with only a 10-minute walk away. How convenient!
Get in the pool. Somewhere I read that there is a pool at the Inn, and yes, you can swim in it! I think I hear it calling right now. Most people want to join me at this point, so grab a green leopard-spotted towel off the back porch and BYOMS (Bring Your Own Mommy Slushies). I'll meet you out back.
Take in an outdoor concert. Long's Park in Lancaster has a fabulous summer-concert series every Sunday evening. Very well done. However, I have my eye on the Friday night concerts at The Vineyard at Grandview, which is less than four miles from the Inn. How much fun could that be? Wine, music and summertime!!
Try a new thing. For me, that's going to be Paint Night at Crafter Hours. So handy for me, they have moved almost directly across the street! I can wave to them as I'm sitting on my balcony doing emails in the afternoon, then go to the corner, look both ways, cross the street and I'm there. The world is at my fingertips.
Okay, my friends. My message to you is to enjoy the present and appreciate where you are. No need to borrow from tomorrow or bum rush the office supply store for the cheap staplers. Stop on Inn (Get it? So witty!) and make some warm weather memories that you can savor while you're doing your Valentine's Day shopping next October.