May 2, 2017
SCORE Conference-Mind Blown!
Posted by: Nancy Skee
From the time I entered the boutique hotel to right this very minute, I've felt renewed, pumped up, energized, open to new ideas, and awed by the events and people at the American Small Business Championship in Dallas, TX. Thank you to everyone who helped put me here by supporting Olde Square Inn during the contest earlier this year.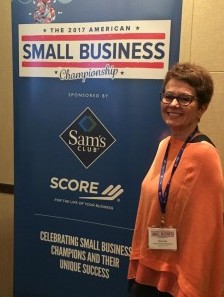 Our all-expense paid trip was a gift from SCORE and Sam's Club, awarded to two Champions from each state. I met two #Bizchampions at the airport, exchanging names and ideas before we even handed our bags over to the shuttle driver. We met later for dinner to continue the conversation we had started in the ride from the hotel, and added other entrepreneurs to our group. We collected ideas like kids collect Pokemons.
Our celebration and training began the next morning at 8am with a beautiful breakfast buffet and registration. The meals throughout the day were exceptional - they definitely didn't let us even think of being hungry. We sat together at tables of eight and had time to exchange business cards and listen to the outstanding stories of our fellow small business owners. Some people had been in business for less than 12 months, and others for over 22 years!
Our presenters were outstanding: Gisell Champman with Secrets of Top Performers, John Pietro talking on Effective Communication, Hal Shelton, who not only discussed The Secrets to Writing A Successful Business Plan, but also gave each of us his book of the same title. We also heard from Besty Dougert the Communications Manager at SCORE, and one of my favorites - Ron Cates @Roncates, a digital marketing expert.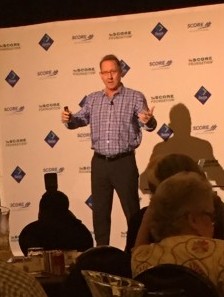 Energetic, entertaining, and a wealth of information, Ron taught us about the ins and outs of having a digital presence, something important now to all businesses. When he was up on the stage, I kept thinking I knew him from somewhere. It dawned on me that he looked like the guy who used to play Ben on the series Lost. Remember him? I mentioned that to him afterward and he said he gets that a lot. Take a look at the picture. It's Ben.
Later that afternoon when the speakers had finished, Resa Kierstein, Vice President of the SCORE Foundation, presented each of us with a $1,000 gift card from Sam's Club. I don't know how a fantastic day could have been made even better, except for maybe that, right? Well, it did! We all met for dinner at the Iron Cactus, where SCORE and Sam's Club treated us to drinks and great Tex-Mex cuisine. Our events were coordinated by the ever gracious Naina Vasuveda, event planner for SCORE
Later that night when I sunk into my so-comfortable bed at the Joule, I finally understood how truly great it is to get away, no matter how much you love the work that you do and the family that you call your own. Whether you're picking up the tab or it's gift someone has given you, stepping out of your every day environment is truly cleansing. Your mind is invigorated with new ideas and new sites and isn't focused on those 1001 things that have to be done before you can sleep. It's like new life is breathed into you. The work I love to do is providing people with that kind of getaway, and I experienced how truly renewing it is.
I have two takeaways here:
If you are a small business or are thinking of starting a business, this award can be yours next year. Go to SCORE.org to get a free 1:1 mentor in your area, plug into their video training, and take advantage of on of their on-line tools. In January you're going to see how to enter this event. Watch for it.
Get out of town. It's okay to put aside your responsibilities and take some time off for yourself. I know. That's the work that I love to do. Come and see me at the Inn and I'll help you get a fresh take. See you soon!