December 15, 2015
Quiche Recipe So Delicious Your Sister Will Accuse You of Buying It - or - Merry Christmas Breakfast
Posted by: Nancy Skee
So this really happened. We have an amazing spinach quiche that we've been serving for breakfast since I became Innkeeper a year ago. Guests love it because it's delicious and hot and cheesy and flavorful. I love it because it has three main ingredients and can be semi-assembled the night before. Ha! So easy. You can even leave out the spinach (Rich, Tammy, Dave...I know) or can add bacon or mushrooms or whatever.
I had passed the Secret Recipe along to Jo, the sister who visits from Indiana to help me out at the Inn, and she had made it for our Little Hungarian Mother and our other sister Christine. Jo is a good cook and often takes food out to them because she's nice like that. Anyway, The Girls - which is what we affectionately call our L.H.M. and Chris - are enjoying the quiche when Christine yells out, "Jo didn't make this! It's too good! She bought it at Butterfingers!" Well, let me tell you, sister, you won't find this at Butterfingers Bakery in Indiana, but you can find it in your own home for Christmas or New Year's brunch or whatever occasion or non-occasion you want, because I'm about to share the Olde Square Inn Secret Quiche Recipe with you and you alone. It is so easy it should be a sin, but it's not. Delicious convenience when applied to food is not a sin.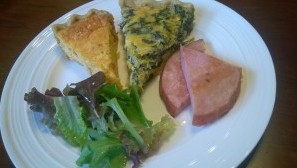 Olde Square Inn's Secret Three-Ingredient Quiche Recipe
Ingredients
3 large eggs
3 c. shredded cheddar cheese, or you can mix it up with some other types, but not with mozzarella
1 c. Heluva Good onion dip (Don't use a cheap imitation!)

Optional Ingredients
Add 1 box of frozen chopped spinach that has been thawed with the liquid squeezed out and/or
Add about 5-6 slices of crumbled, cooked bacon and/or
Add about 1/4 lb. sliced mushrooms that have been sautéed in butter (They have to be cooked to reduce the water content in them.) and/or
Add other interesting veggies, cooked if necessary

Procedure
Mix ingredients together (this can be mixed the night before and refrigerated until ready to use) and put into an 8-inch pie shell right before you bake it. Throw it in the oven at 375 degrees for 40 minutes. Take it out let it set for about 5 minutes before you cut into it. To make it even more special, top each piece with a tomato slice and shake on a little McCormick's Perfect Pinch Italian Seasoning and serve (6-8 servings).
That's it! That is the whole thing! You can even keep it warm in a 200 degree oven (lay a piece of foil on top) if you need to wait for people, or you can enjoy it at room temperature. Do remember not to leave food out for more than two hours; we want you to stay viable this season. And here's another thing - you can make your own pie crust or buy a ready-made one. Yeah, buy a crust - don't kill yourself over it. Spend time with your company instead.
To help you enjoy your holidays, here's my idea for your Merry Christmas, Happy New Year, Enjoy-Your-Company breakfast buffet. All of these recipes can be found on my blog and made or assembled ahead of time, leaving you less stressed for the celebration. And don't forget, when you do a buffet, people like to try a little bit of everything so you can make the portions smaller. They can always come back for more.
Delicious and Easy Breakfast Buffet
1. Olde Square Inn Quiche (Easy peasy, see above.)
2. Biscuits and Gravy (Make up to two days ahead. Serve in a crock pot.)
3. Baked French Toast (Assemble night before.)
4. Blueberry Crumb Coffee Cake (Bake ahead and freeze.)
5. Several dozen of the million Christmas cookies your family traditionally makes every year if you haven't eaten them all by now. (Wish I had some. Hats off to the Wagners and Simics, former neighbors who use to bring me beautiful trays of treats.)
6. Fruit Trays from Costco or your local warehouse or grocery. (Really, give yourself a break.)
7. Coffee, juice, and Mimosas
There you go! I wouldn't go too heavy on the Mimosas, because chances are you're the one fixing the Christmas Dinner also, and you won't have time for a nap. However, I have a work-around for that, too.
You know the Inn keeps me pretty busy, but I love having family over also, so this year I'm ordering my Christmas dinner from The Gathering Place in Mount Joy. It is an entire meal for eight people and for less than it would cost me to make it myself - all we do is pick it up and heat it. "Ooohh!" you might be saying, "What about Aunt Blanche's famous green bean casserole!? We have it every year!" No problem, just have Aunt Blanche bring it to dinner and you have delicious convenience and delicious traditions all in one meal. Voila!
As the holidays approach in our 70-degree, record-breaking weather, we're wishing you a blessed and calm approach as you prepare for family and friends in this beautiful season.