October 16, 2016
Outstanding Recipe To Get You Through Trump, Hillary, Kardashians and Clowns
Posted by: Nancy Skee
Just so you know,
This is a real recipe you make on a stove top, not philosophical words to make you a better person.
And which person is sick of hearing about Trump, Hillary, the Kardashians and clowns by now? Only every one.
And everyone needs the comfort of something deliciously outstanding that can be made with three ingredients probably already waiting in the kitchen.

You can't go wrong with a recipe of butter, brown sugar and brandy sauce poured on top of anything![/caption]Here's why this is great. This recipe isn't only for the end of a hard day, or when you're contemplating a November move to another country, or when you want to tell everyone to just stop talking already, but also for when you want everyone to be talking - talking about the rich, caramel-y, sensual dessert you've just served them and what a brilliant and sensual dessert chef you are. Look at this - rather than the debates or the news. So easy.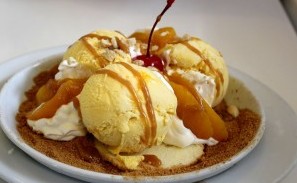 Rich and Sensual Caramel Sauce Recipe
Ingredients
3 T. butter (Not margarine, never margarine, but it's okay if you practice with it.)
1/4 c. packed dark brown sugar (Yes, you can use light brown sugar, but the darker has a deeper flavor.)
1/4 c. brandy or bourbon (What?! You don't have this in your kitchen?! You can use orange or apple or pear or cherry or whatever juice and it's still delicious.)

Procedure
On medium heat, melt butter in the pan, but don't brown it or burn it like I did last week. Stay in the kitchen and watch. Stoves sometimes are offended when you leave them unattended.
Add the brown sugar and stir for few minutes until it's incorporated into the butter. That means it won't be lumpy, but will begin to look smooth even though it might be a bit grainy.
When it begins to thicken a little - the time will depend on how high your heat is and what kind of pan you're using, but will take another few minutes - add the liquid and stir it into the brown sugar/butter combo. Cook another couple of minutes and you're finished!! You should end up with a rich and sensual caramel sauce that you can use a lot of different ways.

a.) Add sliced bananas and spoon on top of ice cream for a Bananas Foster dessert.
b.) Pour on top of a baked apple and top with whipped cream.
c.) Toss in fresh pineapple slices, continue to cook until the pineapple is warm to hot. Plate and top with some of the sauce, whipped cream of course, and almonds.
d.) You can do the same with a peach, nectarine, pear, or such type of fruit. Just cut it in half, pit or seed, and place cut side down, then cook until warmed or hot. Serve with the sauce and toppings.
e.) Drizzle over a piece of apple pie, pound cake, a brownie, or any store-bought dessert to add a layer of home-made flavor. As always, top with whipped cream.
f.) Sometimes I stir in a handful of dried cranberries depending on how I want to use the sauce. Just be sure to cook them until they get plump and unwrinkly.
g.) Take a spoon and eat the Rich and Sensual Caramel Sauce directly from the pan. Be careful, though, it's hot.
A few tips:
While you're cooking this, if it gets too thick you can always throw in some more butter and/or liquid. If it's on the heat too long it will turn into a hard brittle kind of candy and nothing you can do will turn it back into a liquid. Just take it off the heat and eat it later once the kids go to bed.
If you pour in too much liquid and it's too thin, just keep cooking and stirring. The liquid will begin to evaporate and the caramel sauce will thicken.
When I'm making a big batch at breakfast for Salted Caramel Peaches or Grilled Nectarines, my liquid is usually orange juice and then I'll finish it off with the liquor.
Should you burn the caramel in the pan, don't cry about it. Put the pan on the porch like I do so the place doesn't smell like you burned up the joint and try it again. Someone told me once that you have to make a recipe at least five times before you get it the way you like it. Sometimes it takes longer for me, but who cares. Go with it. It's fun.
Besides that, it will make any headlines with the words Trump, Hillary, Kardashians, or Clowns much more palatable. If you would like other easy and delicious dishes to fend off the clowns, click on our recipes link just off to the right under Blog Categories, or join me for a non-debatable breakfast at the Inn -exactly what you'll need for November! See you soon.