July 7, 2015
Not Your Mom's Sweet Potatoes
Posted by: Nancy Skee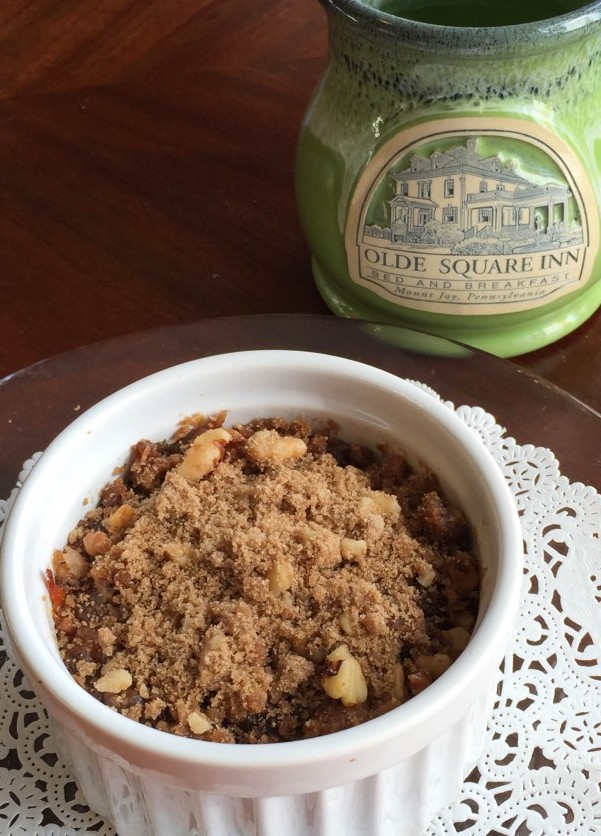 Just had to share this great recipe with you. We served this for breakfast at the Inn on Easter morning, and it was a total hit. Guests who claimed to never like sweet potatoes (I would have include myself in that) loved this. It's light and fluffy, not too sweet, and topped with a delicious crunch. When I make this for a family event I always double the recipe and even so, there is not a spoonful left over.
My friend Andrea gave me this recipe 15 years ago, and I had always attributed the creation of this great side dish to her mom since it was called "Mom's Sweet Potato Bake." Well, I just found out yesterday that she got it from a friend who got it from A Taste of Home magazine at some point. Who knew? At any rate, somebody's mom makes great sweet potatoes, and I'm sharing that secret with you.
Mom's Sweet Potato Bake
3 c. cold, mashed sweet potatoes
3/4 c. sugar
1/2 c. milk
1/4 c. butter, softened
3 eggs
1 t. salt
1 t. vanilla
1/2 c. brown sugar
1/2 c. chopped pecans or walnuts
1/4 c. flour
2 T cold butter

In a large bowl, beat together first seven ingredients. Pour into greased 2-quart baking dish.
In a small bowl combine brown sugar, walnuts or pecans, and flour. Cut in butter until crumbly, then sprinkle on top of sweet potato mixture. Bake at 325 for 45-50 minutes.