March 15, 2016
It's Bigger In Texas But Better In Mount Joy – or – If It's Saturday There Must Be a Wedding
Posted by: Nancy Skee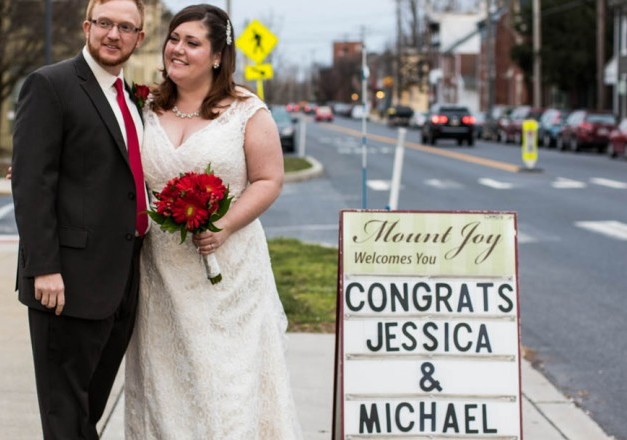 It might be bigger in Texas, but it's a awesome here! Unlike our incredible January blizzard wedding, the day was made to order for this weekend's I Dos, and nobody had to worry about whether or not the joint was plowed out or if guests' flights would be diverted, or whether the minister could make it out of his driveway.
Both Jessica and Michael, as well as many of their friends and family, live and work in the Lone Star state so we had quite a few people flying in. They came from Texas, from Florida, from Oman (that's by Saudia Arabia - I had to ask), and even from Mount Joy. When the wedding was ready to begin that evening we had moms and dads, grandmas and grandpas, sisters and brothers, babies and cousins all cozied up in the living room and dining room to witness the ceremony. Best friend Robert was the officiant and, I've got to hand it to him, wrote a pretty good little speech. You'd have thought so, too. I laughed, I cried, it became a part of me.
What I love about weddings here is that they are so intimate and so...family...with the bride and groom totally surrounded by people who love and care about them. Since we take care of cake, flowers, decorations and other odds and ends, they don't have to worry about those details and can just be immersed in their celebration. Feel the love, right?!
Following their vows, Jessica and Michael cut the cake which Amazing Joan and I served, while Shareen took pictures. Nobody had to stand around and wait, and it was a very tasty cake so I heard. Great local bakery here. Dinner was just a short drive away at Cameron Estate, then the family returned to the Inn to further celebrate. I think it's a huge bonus that when your party is over, all you have to do is walk upstairs and go to bed and walk downstairs for breakfast the next morning. So convenient.
In the upcoming months we're hosting several wedding and baby showers. Pretty soon the gardens in the back will be in full bloom and the town fountain out front will be bubbling. Don't you love that Mount Joy has a town fountain, and that it's right on Olde Square Inn's own little corner? I sure do.
We're so lucky to be able to help people celebrate their heart-felt moments, and I can't wait to find out who we will host for first outdoor wedding this summer. Call me at 717.653.4525 or email me if you have a date in mind or need some help planning. We're here to make it a fabulous event for you!