March 22, 2016
It's a Great Day at Olde Square Inn with Nana's Lamb Cake Recipe
Posted by: Nancy Skee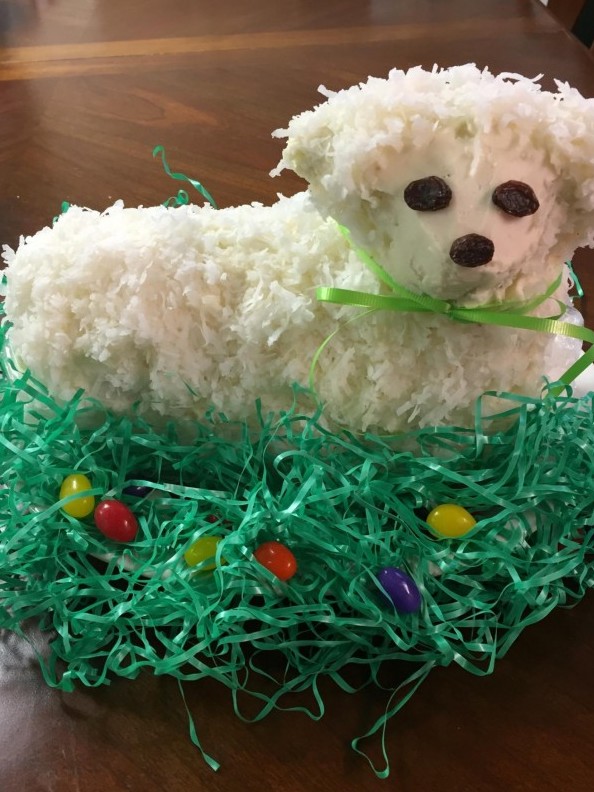 You likely saw the Facebook picture of the little naked lambs all lined up? Well, here's a finished one just waiting for his turned to be shipped off. My Little Hungarian Mother would make these every Easter, along with poppyseed roll, nut roll, kifles, egg bread, and all kinds of other special treats reserved for special occasions. These were such a tradition in our family that even when I lived in Hawaii, she sent an Easter lamb all the way to Oahu. Do you know how happy I was? Traditions do a lot to keep people connected.
Our family loves lamb cake, and growing up we never really had any leftovers. All the sisters would argue over who got the tail end and the ears - they were best parts because they had lots of icing. If there was anything remaining we would get to have it the next morning for breakfast. Beats yogurt and granola any day, and it's good for you, too. There are four eggs-worth of complete proteins in the cake and besides, carbs and fat keep you happy; everyone knows that.
I am now the baker and send out the lambs to my family across the US. You might have your own customs or you might want to begin a little flock of your own. You can find the lamb cake pan on eBay, but be sure that whatever you buy has two pieces. (I got tricked by some guy in Illinois who sent me only half a pan.) Once you have that, you need the recipe which is a nice, dense, pound cake.
Nana's Easter Lamb Cake
Ingredients
2 c. flour
1/2 t. salt
1 t. baking soda
3/4 c. sugar
1 T vanilla
grated lemon peel (about 1/2 - 1 t.)
4 eggs
1/2 c. milk
Raisins and ribbon (You'll see.)
Buttercream icing - recipe follows and it makes a lot.
One half of a 14-oz. pkg Bakers Coconut, not the cheap kind.

Procedure
Preheat oven to 350.
Sift first three ingredients into a medium bowl.
Cream butter, sugar and lemon peel.
Add eggs one at a time, beating after each addition.
Beat in half the flour.
Slowly mix in milk.
Add the rest of the flour and beat until smooth, but you don't have to beat the heck out of it at this point.
Pour or spoon into the greased and floured lamb mould (be sure you get it into his ear spots) and bake for 55 minutes in the middle of the oven.
The cake will rise while baking and when you get it out of the oven you can take off the top part to help it cool down. That will come off very easily. When you're ready to take the cake out of the pan, it's a good idea to take a little paring knife and loosen around the edges. Sometimes the lamb's ears might break off, but I just stick them back on his head secured with a toothpick. Be sure he's totally cooled off before you ice him.
Buttercream Icing
1 lb. pkg. (4 c.) confectioner's sugar
1 t. vanilla
2 sticks of butter, softened. Do not melt it!!!
about 1/4 c. milk

Cream together butter, sugar and vanilla until very fluffy. Beat in the milk to make it a nice spreading consistency. Now you're ready to decorate!
Before I ice my guys, I like to put them on a piece of plastic wrap. It helps catch the coconut when you get to that stage and just keeps things tidy. So, you're just going to cover the whole, entire lamb with the buttercream icing. You can smooth his face area with a knife dipped in water. His face is the only thing that won't be covered by coconut. Next press the coconut all over the rest of him. Add raisins for eyes and a nose. Pick cute raisins that are the same size, not the weird, jacked-up ones. You don't want your lamb to look like a cross-eyed monkey. Next tie a ribbon around his neck.
Now you can either freeze him - wrap him up really well with layers of plastic wrap and keep him ready for Easter - or you can put him on a plate. The plastic wrap that he's sitting on helps transport him to the plate, and you can easily cut around it to remove whatever looks bunchy. Add Easter grass and jelly beans and you're ready for Easter!
I hope you get to try your hand at creating a lamb cake this year. Hope, too, you've already gotten your Easter bonnet and will have a fantastic holiday. I am so thankful to have the family, friends, and guests in my life who help to both carry on old traditions and to create new ones. Love and Happy Easter.