March 7, 2017
I Want To Tell You One More Thing
Posted by: Nancy Skee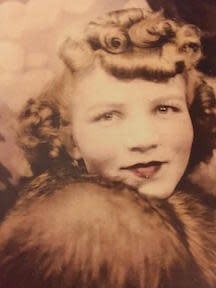 Yesterday, March 6, was my Little Hungarian Mother's birthday. She would have been 96! You already know the story that all my sisters and I were with her and that we watched her leave with a huge smile on her face.
That was very comforting to me, and I thought it was all over and done with and I had everything in its place. Hmmm. Not really. Once the rush of final arrangements and Christmas and New Years and everything else was over and life had jogged itself back into its daily routine, I had more time to think, like about how we used to talk over the phone every Sunday.
When I came back to Pennsylvania after her funeral, in my head I'd say, "Oh! I have to call mom. Wait. I can't call mom. So weird," and leave it at that. As the weeks moved on, though, my mother filled my thoughts even more and I'd find myself often speaking out loud, "But, mom, what are you doing right now?!! What's going on there?" I was oddly perplexed.
My out loud conversations kept going. "Can you come back here just a minute? I want to tell you one more thing, then you can go back." And I said that a lot of times! Some part of my brain felt it was very logical, because after all, it wouldn't take very long and she could go back to her other place once we talked. Kind of like when someone pops into a room, you exchange a few words, and they're off again. Kind of like that.
I'm still a little perplexed about the whole thing and feel the way my three-year-old grandson sometimes must. "No, Parker. You can't flap your arms and fly down the steps."
"Why?"
"It doesn't work that way."
"Why???!!!"
"It just doesn't."
"WHY???!!!!!"
This isn't a go-hug-and-love-everyone-while-they're-still-with-you-and-you-have-a-chance-to-show-them-you-care blog, because I know you probably already do that. (And sometimes if you don't like them, that's okay, too. You're a human.) It's just a story about thinking of someone after they've gone.
My friend Doug, whom I've known since high school, was also friends with my mom and would call, write, text - or whatever - every year on her birthday. This year I received this email:
Well, it's her first birthday in her new life.
I know she must feel our love!
Your Hungarian Night will be a lovely salute to her!
XOXOXO to you
How can you not love that? Looking forward to welcoming friends and family this weekend!