January 12, 2016
I Don't Know What You're Standing About - and - Awesome Tom's Baked Oatmeal Recipe
Posted by: Nancy Skee
When my son Grahm was about four and I'd ask him to do something, at times he would look at me, confused, and say, "I don't know what you're standing about!"
Like all mothers ready to fill in the blanks for their kids, I'd clarify, "Oh, you don't understand what I'm talking about. Do you want me to explain it?" He'd say, "No, thanks," and trot off. That's what I think sometimes when I get phone calls from people who aren't quite sure of what they want or where they're going. I want to trot off. Late last night I took a call from a trucker.
Me: It's a great evening at Olde Square Inn. This is Nancy; can I help you?
Guy: Yes. Are you the only motel in town? Where are you?
Me: Sir, we're not a motel; we're a Bed and Breakfast in Mount Joy, Pennsylvania. Where are you?
Guy: I'm on your street with my 18-wheeler in front of your place. How much are your rooms?
Me: Sir, we are a Bed and Breakfast, not a motel, and our rates are blah, blah, blah.
Guy: I'm delivering cars. They said you were a motel. What's for breakfast?
Me: Blueberry baked oatmeal, an asparagus and tomato frittata with cheese, crisp bacon, a warm croisssant with butter and jam, and a dark chocolate cupcake with chocolate fudge icing for dessert. If you don't care for that, I'll be happy to make you something else.
Guy: Dessert for breakfast?
Me: Yes, sir. If you would care to enjoy it.
Guy: I don't eat breakfast.
Me: ........Okay.
Guy: Do you have anything cheaper? I'm driving in the morning and I don't eat breakfast.
Me: Those are our rates, sir. Maybe you want the Holiday Inn Express the next town over.
Guy: I don't want no Express. They told me you were a motel.
Me: No, sir. There is no motel.
Guy: Well, how far is it? The Express. I need a place to park my truck. Is it cheaper?
Me: Here's the address, sir, and I'm sure they have a parking lot. And yes, you can save $7.00.
Guy: Okay. I'll stop at the McDonald's for breakfast on the road with the $7.00.
Me (?! What the what?! With my years of training in education in being politically correct and kind at all times my fleeting thought was "Oh, he must be really tired." Then the thought quickly rearranged itself into "Dude, are you maybe smokin' something or are you just stupid?!" Instead) : Great, sir. Thank you for considering us. Have a good evening.
Blueberry baked oatmeal is great on a cold winter morning![/caption]I hardly knew what he was standing about, but you know, that's just part of the fun. At any rate, I like our breakfasts better than any McGriddle, which is probably one of the reasons I own a B&B and not a fast-food franchise. Our guests this morning asked for our Baked Oatmeal recipe, and I've had several email requests, so I guess it's time to post it. This recipe came from Awesome Tom who, as you may know, worked in my Middle School also and now fixes stuff around here.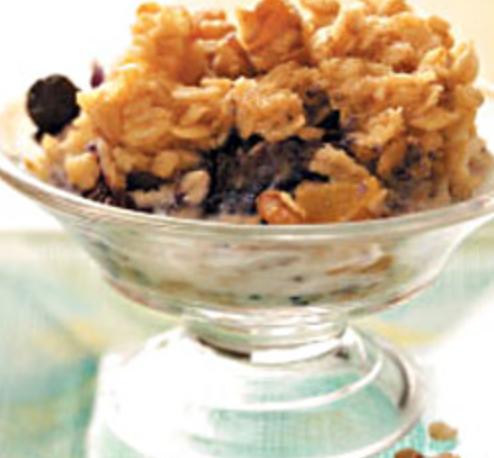 Tom's Baked Oatmeal
Ingredients:
3 c. quick oats
1/2 c. packed brown sugar
1/4 c. white sugar
2 t. baking powder
2 eggs
1 c. milk
1 stick of butter, melted
1 - 1 1/2 c. fruit, sliced or cut up as necessary (optional)

Procedure:
In a large bowl stir together the first four ingredients.
In another bowl whisk together the eggs, milk, and melted butter, then stir into oat mixture until blended.
Gently fold in fruit.
Spoon into a 9" square greased baking dish, and bake in a 350 degree preheated oven for 35 minutes or until set.
Serve warm with milk and brown sugar (optional).
And don't tell Tom, but I changed his recipe a little bit - you know how I am like that. The original recipe had 1 c. packed brown sugar, but you see the switch I made, ha!
January is a great time to break away and renew after the holidays. Come on out and I'll make breakfast for you while you are snuggled in buttery soft sheets and a cozy bed in front of your warm fireplace, tucked away for an extra hour of sleep. See you soon!