October 25, 2016
How Do Legendary Santana and Shrewd Warrior Cats Rock Olde Square Inn?
Posted by: Nancy Skee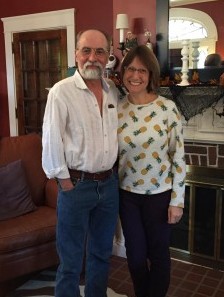 But let me back the truck up, Chuck. What I love about my job is the variety of people who walk through our door, and that I get to cook for them and talk with them and help them enjoy their getaways. Sometimes we can talk leisurely over breakfast or throughout the day, and other times their schedules are jam packed and we only have time to touch base. Over a leisurely Monday morning breakfast comment with some incredibly lovely people, a story unfolded.
Victoria (In a proper British accent): We've traveled all over the world and to a lot of B and Bs, but your breakfast is truly the best we've had anywhere, vegetarian or otherwise.
Me: Thank you, that's very kind! And what do you do that takes you traveling all over the word?
Victoria: Oh, Bob's a producer.
Me: That has to keep you on the move. What are you producing?
Bob: Santana stage shows.
Me: Wow, stage shows (Thinking back to directing 8th grade plays during my teacher days haha)…that's a ton of work!…….Wait……. Did you say Santana? Like Carlos Santana?! You produce stage shows for Carlos Santana?!?!! Classic Rock Carlos Santana???!?!!
Bob: Yeah. When they're touring.
Me: Whaaaat? Get outta town!! Have you always been with Santana? In my head I'm thinking, "Oye Como Va! Man it's a hot one…but you stay sooo cool!"
Bob: No, you name it, I've worked with all the artists. It's the nature of the job. You know, you're with the tour while it's running, then move on to the next production when it's finished.
Me (Star struck, but remembering my manners): Victoria, do you go along to the concerts?
Victoria: No, Bob's working during the concert, and I'm usually working or on a book tour. I'm a children's book author.
Me: Love that! What do you write?
Victoria: As a teacher you may have heard of the Warriors series? I'm Erin Hunter.
Me: Whaaaat? Get outta town!! I just heard they're making a movie from one of your books and………..
And then we're all talking about the movie and Santana and Madonna and vegetarian meals and writing and working and touring – so much fun! I felt as if we had been friends for a long time, you know what I mean? Sometimes you just fall right in with people. It's that way with a so many of our guests; they become your friends and family.
What I really loved is that they had booked with us for a couple of nights, then left Saturday morning to go to Frank Lloyd Wright's Falling Water (stunning!) in western Pennsylvania. Well, they didn't care for their accommodations out that way and called from the road to see if they could come back for Sunday night – a four-hour return drive. So happy that they were so comfortable and relaxed here that they wanted to come back a day later!
When you make your next reservation, you might find that I've renamed the first-floor Summerfield the "Carlos Santana Room" and changed the name of the Carriage House "Warriors' Respite". You just never know who you're going to meet when you're out here.