April 26, 2016
How Auto Correct Can Make You Sleazy - or - Find Out Who Your Real Friends Are
Posted by: Nancy Skee
We have this book club group that has been getting together for years now, and we're pretty casual. You get to come to the book club even if you haven't read that month's selection, or it's okay to miss it if you're retired and doing other things or if you have another Important Meeting somewhere. Nobody likes to miss it, though, because aside from the 15 minutes we actually discuss the book, there is a lot of eating and talking and laughing and problem solving and, of course, the occasional or frequent emptying of the bottle(s) of wine. We're really a Laughing/Eating/ Drinking/Support/Reading group. It's fun.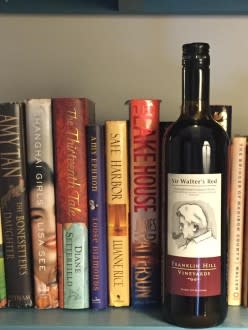 Usually we meet on the Fourth Thursday, but sometimes that changes to the Third Thursday if there's a holiday or if it happens that everyone has another Important Meeting. Usually I can't keep track, but I act like I know and just go with it. Now, when it's your turn to host, you shoot an email out to everyone giving them the details of where to meet, what time, what you might be serving, and sometimes even remind them of the title of the book.
Me: If bookclub is this Thursday, come over at 6:30! I'll have dessert, wine, and snax! Notice how I gave myself some leeway by starting with "If..."?!
Becky: Nancy, this is my work email. I'm just saying'. Hmmm. What's wrong with Becky? Maybe we can't email her at work anymore.
Linda: I'm sorry I'm going to miss it….going to NYC to meet an old friend.
Andrea: Always glad to see you, but this is the third Thursday and we meet the 4th Thursday, right? (Though who could pass up an offer like that . . .:) ) Not really much of an offer - dessert, wine, and snacks. Maybe she has been avoiding sugar and is now ready for cake.
Eileen: I have book club scheduled for 4/28/16 in my calendar, which is the 4th Thursday.
....and so on and so forth with everyone weighing in and all confused, pointing to their calendars to the real meeting date, but then Suzanne replied.
Suzanne: Wwwhhhaaattt??!! Dessert, wine and - what!?? Wow, that's entertainment!! But, my schedule has April 28. I had no idea what she was talking about. What could she mean? Snax aren't that entertaining.
I went back and looked at my original email. Apparently, when I thought I was cleverly typing in "snax" I must have typed in "snex" and Autocorrect decided he would fix it by removing the "n." Instead of dessert, wine, crackers and cheese, apparently there would be cake, merlot, and other activities. I was silently horrified and now understood what Becky meant. I felt weird about the funky message and the confusion. I wanted a do-over.
But then I was rehorrified by everyone but Suzanne who thought it was an okay idea! Maybe it was time to take a look at who I had been hanging out with all these years, or maybe it was time to check my own senile behaviors. Actually, I didn't think about it too long because I had other business to take care of, but I did cut my friends a break and concluded that they were all too busy to read through a three line email, and also cut myself a break and concluded I truly have no senile behaviors. I opted for a do-over.
Me: Pretend I didn't email you yesterday. Incorrectly embalming eight people is unforgiving, so I'm going to start over.... Wait, stupid Autocorrect! That's supposed to be "emailing," not what you wrote!!!


Luckily I caught it before I sent it out. I don't know if I'd've had the brain space for a do-over of a do-over. At any rate, Book Club is in a couple of days; we'll see who's alive enough to make it over for some cheese curls. And that's all.