November 15, 2016
Holiday Entertaining - AND - Anniversary Bonus!
Posted by: Nancy Skee
Already I've had the chance to do some holiday entertaining -
my sisters came from Indiana and Arizona to spend our 2nd anniversary with us. You already know that Jo has been here a million times; she and Ed and friend Gordon helped me set up the place when we moved in.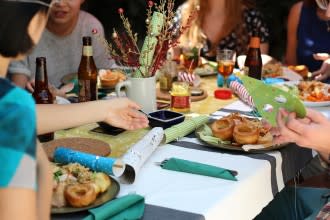 It was Susan's first time to see the Inn and to meet the babies. Yeah, I know! Two years! She had already met Taylor who is now 12, but not Parker and Easton who are three and one. I understand how difficult it can be to make time to leave your life and connect with your friends and family. We've all been in that spot where we say, "I've got to stop in and see-------." It's money, it's work, it's organization. It's a lot of things. But friends, waaaaay better to make the trip while they're living and breathing.
So we did our own little version of holiday entertaining, and our gatherings always involve laughing, eating, talking, drinking, eating, laughing, snorting, drinking. It's a lot of fun and always turns out to be worth the effort.
And when we get together we talk through our current dilemmas. Here's what happened this round: Susan decided to sell her house, Jo had no pressing issues since Caralyn's wedding planning is over, and I needed help with a class I'm doing at the Mount Joy Public Library on November 28, appropriately titled Holiday Entertaining. My question to my fam was, "If you were attending a class called Holiday Entertaining, what would you expect to learn?"
Taylor: How to set a table!
Nicole: What do you do for a centerpiece!
Grahm: No! No one cares about how to set a table! Tell them how to set up a bar!
Me: I'm in the library, Grahm.
Grahm: People who go to libraries drink! Or you could tell them how to set the food around in stations so the party doesn't clump up in one corner like a feeding trough.
Aimee: You could show them how to set up a buffet!
Susan: Easy recipes for entertaining!
Jo: Who's your audience?!
Me: I won't know until they register!
But what I do know is that it will be a lot of fun, a lot of ideas, and a lot of food. You can register for the class and see what else is going on at the Milanoff-Schock library. Hope to see you there. I would love your feed back.
And -
Thanks for the great response to last week's Gift Certificate and Mug offer (I think I might have to order more mugs!), but that got me to thinking you really like the gift certificate idea.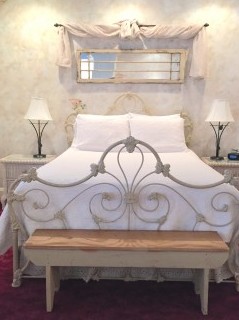 Our spacious and private Carriage House is great for visiting family!
So here is our Second Anniversary bonus offer. This week when you can take 20% off your $100 or $200 gift certificate order, and there is no limit to the number of gift certificates you can purchase! You can click here for the order form, or can email me at nancy@oldesquareinn.com or phone at 717.653.4525 if you need some help.
It'll be great. You can enjoy your family this holiday, then send them to sleep somewhere else at the end of the day, and save some money. You're a genius - perfect!
I'm looking forward to helping you entertain for the holidays, whether it's at the library at the end of November, or whether it's at the Inn when your family comes to visit. See you soon!