March 20, 2018
Great Easter Breakfast - Egg Souffle In Puff Pastry
Posted by: Nancy Skee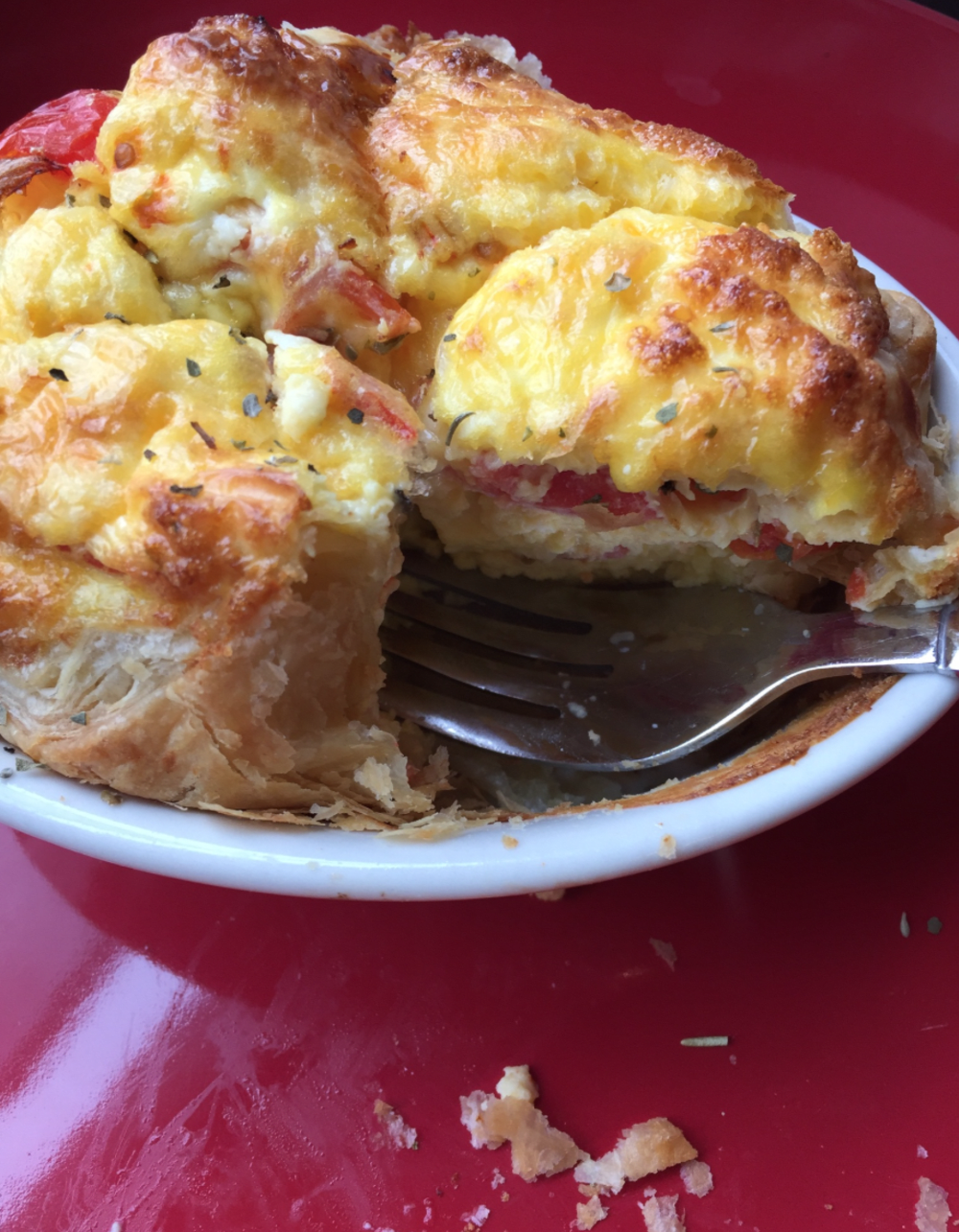 Well, since I started serving this lovely combination at the Inn, all our guests have been asking for this soufflé recipe. It tastes delicious, looks amazing and is relatively easy to do.
In addition to the ingredients, you will need four ramekins. They come indifferent sizes and shapes and can be round, square, oval or whatever. The ones I use each hold about 2/3 cup. Are you ready?
Egg Souffle in Puff Pastry with Tomato and Spinach
Serves 4
Ingredients
· 1 sheet of puff pastry dough (There are two in a box. Find it in the freezer section.)
· 8 eggs
· ¼ c. Helluva Dip – a sourcream-based onion dip
· 1 c. shredded cheddar, Colby, etc. or combination
· 12 cherry tomatoes, roughly sliced with liquid and seed removed. (Or about 1/3 c. chopped whatever-kind- of-tomatoes-you-have after liquid and seeds are removed.)
· About 1 c. loosely packed fresh spinach leaves. Chiffonade (kind of chop into strips.)
OR
· ½ - 2/3 c. of veggie of your choice. You might do cooked broccoli and bacon, or sautéed mushroom and onion. Your pick.
Procedure
1. Butter ramekins and set aside.
2. Cut puff pastry sheet into four equal pieces that are more or less squares.
3. Place one square in each ramekin and gently push down. You'll have the corners sticking up over the side.
4. Put in fridge to keep cold until you're ready to fill them and put them in the oven.
5. Put a cookie sheet in the lower part of the oven and heat oven to 400. You have to preheat the cookie sheet so the puff pastry poofs up better and doesn't get soggy.
6. Combine eggs, dip, cheese, and veggies in a large bowl and stir until ingredients are mixed.
7. When the oven reaches 400, get your pastry lined ramekins out of the fridge. Get a scooper or measuring cup or something and fill each of the ramekins pretty close to the top with your egg mixture.
8. Fold over those little corners that were sticking up. Yes, it's all liquidy, but don't worry about that.
9. Place each of the ramekins on the preheated cookie sheet that is already in the oven, and bake for 30 minutes.
These are going to be hot when you pull them out of the oven, so be careful. Cool about 5 minutes before setting them on plates. (You're serving them in the ramekin. I tried taking them out and it was a horrible mess!)
I like this with spring greens, or they'd be good with a fruit salad, too. You could also serve a side of bacon or sausage or ham.Yum to the bacon, or better yet - bacon-wrapped asparagus!
These would be nice for Easter, don't you think? Give it a shot and let me know how your turn out. Or make your Easter reservations at the Inn and I'll cook breakfast for you!