January 14, 2015
Girlfriend Get-Togethers, Good Books, One Word
Posted by: Nancy Skee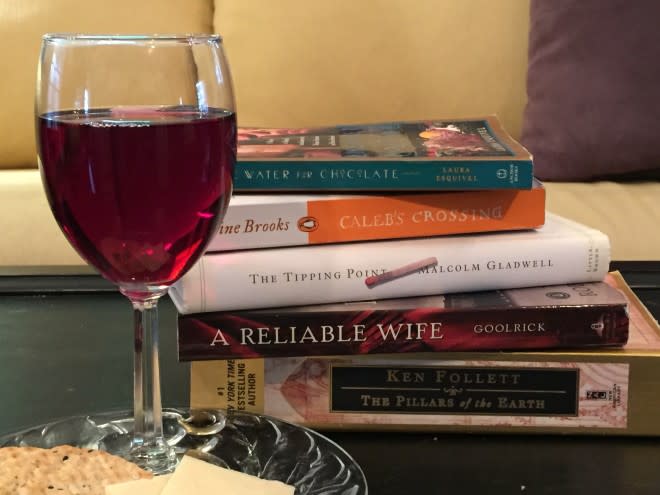 My Book Club girls are my touchstone, my sanity, my cheering block, my support group. Couldn't be without them. My Crappie Friends girls, so called because we only get together when we totally need help - but we're getting better - cheer me when I'm tired of everything. Love them. My YaYa girls go way back to first-friend colleagues. They are those "sisters" who know things about one another they will never share with anyone else. They're like family. I'm SO lucky to have all of them in my life.
Luckier still to host a "pre" book-club meeting last week to talk about our choices of our One Word that would guide us through the year. Our book club actually DOES do more than get together to eat and drink and chat. We really do read books; some truly great ones...and some not so great. Anyway, here's the rundown of our One Word discussion.
1. Suzanne, who has been conquering health issues, has decided that her guiding word for this year will be "appreciation." She has been so gratefully overwhelmed with the continued support she has received since her discovery of multiple mylenoma. Happy to say she's on the way up. We love her and couldn't be without her.
2. Andrea's word is "joy" as a reminder to find the good and happiness first, before letting day-to-day drudgeries become overwhelming. Having recently lost her grandmother, she finds happiness in the time she'd been able to spend with her, rather than dwelling on her loss. Her outlook inspires us.
3. Eileen is a butterfly emerging from a cocoon and investigating the next step in her beautiful life. Her word is "discover," which I so think is her. She is funny, bright, intelligent and is poised to take on her next adventure. Her comments to you truly make you like who you are. How does she do that?
4. Gale, a quilter, a missionary, a reader, a helper, is an all around good person. She is so open to the world, and when talking with her about her national experiences you are reminded that people are more alike than not. She's trying to decide between "faith" and "trust" and whether there is a subtle difference between the two words.
5. Becky, who has an artist's soul, has chosen "healing" as her word for the year. She toyed with "inquire," but decided to focus on remedying some health issues that have been bothering her for a while.
We missed Book Club girls Jil and Jackie at this impromptu meeting. I do know that Jackie chose "explore," but I don't yet know the why behind it.
I can't forget my ACTUAL sister, Jo, who really is my touchstone, my sanity, my one-woman cheering block, and my support. After meeting a guest while she visited over Christmas, Jo decided that her word will be "try." Go for it, take a shot, give it a go, and if you don't like it, it's okay. The word "try" opens the doors to so many experiences you otherwise may have never given a second glance. What will your word be?
By the way, our book his month is Goldfinch, by Donna Tartt. It's a long one, and we're taking an extra month to read it. I have to confess that even though I devour books like I breathe air, I haven't started this one yet. I seem to be doing more laundry than anything else lately. That's not a bad thing right now.