May 28, 2019
Food Fests and Market Stands - What Not To Miss in Lancaster County in June
Posted by: Nancy Skee
Are you a gourmand ? Are you a snacker? Are you vegan? Are you a person who eats food?
Lancaster County has some of the most delicious, freshest, and diverse foods and events around. At the start of the season you'll find farmers markets and farm stands loaded with just-picked fruits and produce. You'll also discover food fest and food trucks offering an array of both local and international tastes.
Here are a few places you won't want to miss this month:
Food Fests
JUNE 1
Strawberry Festival - Haldeman Mansion, 230 Locust Grove Road, Banbridge. Noon-4pm. ($5 parking fee)
Country Barn Strawberry Fest - 211 Donerville Rd. Lancaster. June 1&2. 11am-3pm. ($6.50)
Egyptian Bazaar at St. Mary's - Orthodox Church of Lancaster, 3602 Marietta Ave. 10:30-6pm.
VegFest - Buchanan Park, Lancaster. Noon-5pm.
JUNE 8
Sommerfest - Lancaster Liederkrantz, 722 S. Chiques Rd (near Ole Square Inn). June 7, 6-11pm; June 8, 1-11pm. ($6)
Food Truck Fest - Moon Dancer Vineyard, 1282 Kline's Run Rd, Wrightsville. 1-8pm. ($5)
Another Food Fest - Stauffer Park, 1241 Litiz Pike, Lancaster. 11-3pm.
JUNE 22
Foodstock Music Fest -Buchanan Park, 901 Buchanan Ave. Lancaster. Noon-7pm. ($10)
Ephrata Brewfest - Whistle Stop Plaza,Main St, Ephrata. 1-4pm. ($35)
JUNE 29
Mela Indian American Fusion Fest - Lititz Springs Park, Lititz. 3-8pm.
Check out Chellas Arepa Kitchen,along with other "truckless Food Trucks," which will be atop Tellus 360 at 24 E. King St. in Lancaster. Doesn't that sandwich at the top of the page look delicious? I want that.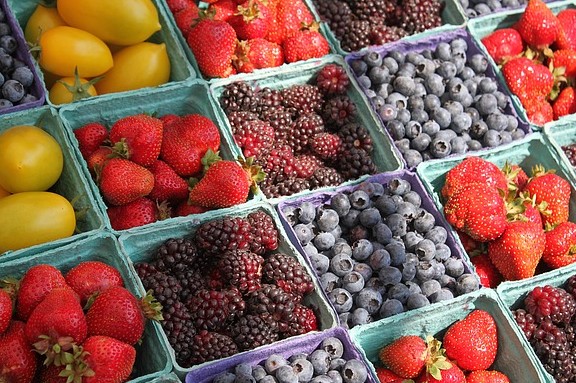 Farm Stands and Open-Air Markets
Brook Lawn - 2325 Lititz Pike, Lancaster. M-F, 10-5:30pm, Sat. 9-3pm. I used to pass this on my way to and from school every day. Happy to no longer be making that journey for the purpose of grading papers.
The Corn Wagon - 2100 Millersville Rd. (Rte. 741). M-Sat, 8am until sold out. They're not just corn!
Harvest Lane - 851 E. Oregon Rd., Lititz. M-F, 9-6pm; Sat. 9-5pm.

Hoover's - 30 Erb's Bridge Rd., Lititz. M-F 8-8pm; Sat. 8-5pm. I love this place. It's where I also get all my summer flowers!
Reiff's Farm Market - 2902 Rothsville Rd., Ephrata. M-F 8-8pm. Sat.8-4pm. I love this place also. It's where I get my huge giant mums for fall.
Smucker's Farm Market - 2032 Peioneer Rd., East Lampeter. M-Sat. 8-6pm.
Zook's Roadside Stand - 3916 Olde Philadelphia Pike, Gordonville. M-F 7:30-5:30; Sat. 7:30-4pm.
As you make your way site-seeing in beautiful Lancaster County, you'll come across even more little mom and pop places tucked along the side of the road. Enjoy the ride. Enjoy the food. Enjoy the day. Looking forward to seeing you soon.