December 22, 2014
Fantastic Furniture on Main Street, Mount Joy?
Posted by: Nancy Skee
I know a little secret in Mount Joy on Main Street. I know I really shouldn't tell you this - and I know I'll regret it the minute it gets out.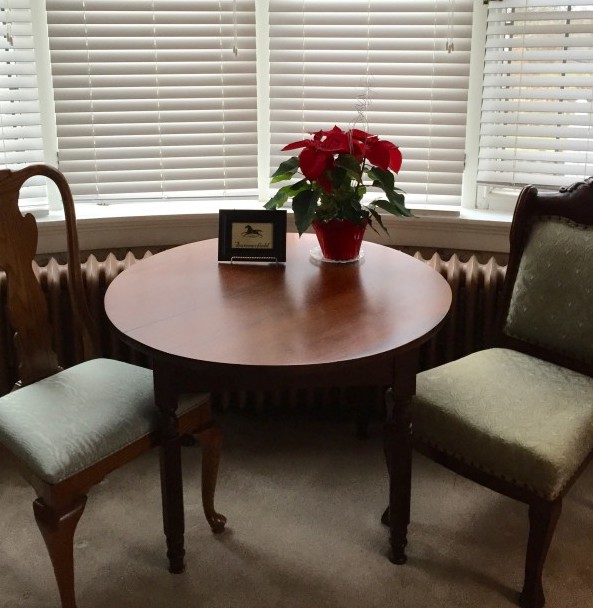 You all have an idea that's it's been a very exciting, busy and fulfilling several weeks for me since I moved into the Inn. What with figuring out the reservation system, the cleaning schedule, the cooking routine, finding my socks - I've only recently been able to stroll around this charming town. Well, I love furniture and everything that goes with it, so the first place I headed was to the next corner to to poke around Mount Joy Used Furniture. All those beautiful pieces of furniture in the photos - the upholstered chairs and the table in the Summerfield, the round table in Charleston, and the lavish sleigh bed in the new Foxfire Room? They ALL came from Mount Joy Used Furniture!! What?!
If I told you what I paid for them, you would drop over because each was such an amazing value. Okay, I have to share at least one because we all operate on a budget and who doesn't like getting more for their money? The cherry sleigh bed was $199! I love Ikea, but that even beats the Ikea price.
Dave, who runs the place, is a really nice guy. I pop in there when I'm tired of doing laundry and announce myself as, "It's just me, Dave!' We chat, he shows me what he's gotten in, I walk around and touch all the merchandise, then go back to the laundry. Often I buy something. He has new pieces, too, which are also fabulous buys.
Here's why I regret letting this slip out. My guests are already storming the joint when they stay with me, and now I'm going to have half of Lancaster County out there purchasing pieces I want to take home, and it's going to be extra crowded on Saturdays. Luckily Dave gets new things in all the time. In fact, today I saw these great church pew storage benches. (The small one was $20!) and have to figure out where I can put one and...never mind...you didn't hear that from me.
Can't wait to see where my next stroll takes me; there are so many cool places. maybe I'll tell you about them!