July 21, 2016
Craving Italian, Paisan? Walk Across the Street to Rosie's Tavola!
Posted by: Nancy Skee
Guess where Aimee and I got to go last week? To a Test-Out-The-Food-Practice-Run at Rosie's Tavola right across the street from the Inn! It was awesome. They were training their staff, and we could order anything from the menu so their folks could hone their skills cooking and waitressing and cleaning up and pouring drinks. Let me tell you, they really didn't need to hone anything - everyone did an outstanding job, and the food was scrumptious.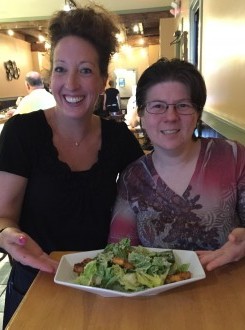 Jennifer and Aimee pose with my salad. I stayed close because I was afraid they'd prank me and take it![/caption]We started with warm rolls and olive oil, then I had ordered a Caesar salad and a glass of white wine to follow. The dressing was light and fresh - not overpowered by garlic - and was topped with crunchy homemade, buttery croutons. I embarrassingly hovered it. So good. I would have licked the plate if Aimee hadn't been with me. You know how kids are about their parents in public.
My entree was salmon that was crispy-grilled, seasoned perfectly and was accompanied by creamy risotto (that I wish I was eating right now!!) and sautéed vegetables. Jennifer, our waitress, recommended a spicy red sauce on the side, but really, everything was cooked so well there was no need for anything else.
Topped with cheese, this perfectly balanced lasagna was delicious![/caption]Aimee chose the lasagna, and I had a bite of that, too. We both loved it with just the right balance of red sauce, meat, cheese and noodles. Here's the thing with the sauce (or you Italianos say "gravy," right?).Well have you ever been to a place where you order the lasagna or spaghetti or whatever, and the sauce is overly sweet or too sour? Rosie's was the perfect balance - not sweet, not bitter, but the perfect tanginess that you'd want with your meal. (I'm wanting to go over there right now.) The portion was so generous that Aimee couldn't finish it, and in fact, we packed up the rest of my vegetable and the risotto, too. You definitely will not leave hungry.
As you know, you always have to have a little something at the end of your meal. They had this to-die-for Turtle Cheesecake that you'll have to try when you go. Think gooey caramel, creamy cheesecake, and a layer of fudgey chocolate on a toasted graham cracker crust. It was definitely the ending to a great meal.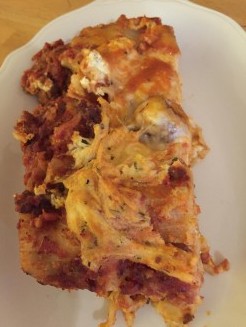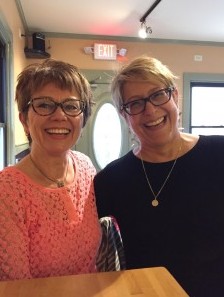 Olde Square Inn and Rosie's Tavola ladies![/caption]If you want to go, Rosie's Tavola is located at 114 E. Main Street, or as I said - right across from the Inn!- and is open Monday through Thursday from 11am to 10pm and Friday and Saturday from 11am to midnight.
If you're having lunch at Rosie's, be sure to tell them that Olde Square Inn sent you. Come in and say hello to me at the Inn while you're in the neighborhood. Hope to see you soon!