August 9, 2016
Check It Off Your Bucket List!
Posted by: Nancy Skee
You know it's coming. The perennials are looking a little ragged, teachers are sneaking back into their classrooms to prep for the first day, you have to buy your kids' school supplies...all signals for the end of summer. But wait! Don't throw in the pool towel yet, because you're going to need it.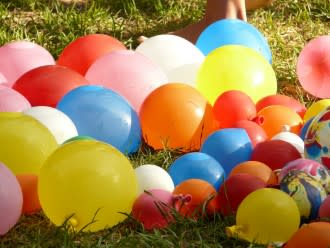 This weekend in Mount Joy you could be part of a Guiness Book of World Records water balloon toss. I know! Who'd've thought you could make history by playing with water balloons, but you can!
There will be games and activities including water slides from 11am - 2pm, and you'll be able to purchase food there, too. Be at Little Chiques Park at 2pm to be part of the main event. Check it out below:
Come and play, let the kids wear themselves out for the day, then reward yourself with some great food from one the local eateries. When you go back to work on Monday, tell everyone you took a shot at being in the Guinness Book of World Records and watch your coolness factor rise.
Bring all your friends and help break the existing record - don't stay at home and be a wet blanket, haha! Let me know how cool you were!