January 31, 2017
Celebrate February - Valentine or Not!
Posted by: Nancy Skee
Okay, so I know some you love Valentine's Day, and others of you are like, "Oh, it's Single's Awareness Day. I'm just S.A.D. Waa waa!" Why should you be sad just because you're not doing somebody else's laundry? Really? Forget about it. Let's have some fun. All of us!
Here's what's happening at the Inn this month. Whether you're coming out as a couple or as a couple of friends, I know you'll enjoy taking advantage of these specials And if you have to skip Valentine's Day, you won't want to miss the Chocolate and Wine Walk on Fourth Friday. (Did someone say wine?!...Wait! Did someone say chocolate and wine?! Read on!)
February 14. Enjoy a complimentary half dozen roses in your room, then take them home to help you relive the memories of a night away. It's easy - just book your room for Valentine's Day, February 14, and I'll do the rest!
February. Receive a complimentary split of champagne when you order our delicious chocolate covered strawberries all through February. Lucky you!
February 10 & 17. Since Valentine's Day falls on a Tuesday, you have two great weekends and several fabulous days to be able to fit in a romantic getaway with your honey or a relaxing girlfriend getaway with your friends. In addition to our yummy breakfast, we will be featuring some luscious new desserts to end your morning meal. Don't wait too long to make your reservation – the weekends fill up!
February 24 and 25. Mount Joy's Chocolate and Wine Walk and runs Friday from 4-8 and Saturday from 10-5. Olde Square Inn is participating this year with limited hours, and we will be featuring Home Run Candies which are made locally. Tickets go quickly and are available on the Mount Joy Main Street website until they sell out.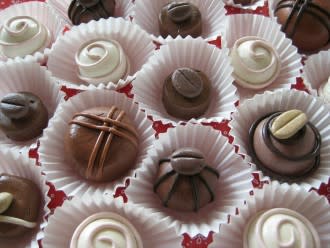 Treat someone you love - including you! - to a night away and enjoy some special time to yourselves. Give me a call at 717.653.4525 and I'll be happy to help you plan a great getaway. February is going to be great!