May 16, 2017
Are You Ready To Get Your Summer On?!
Posted by: Nancy Skee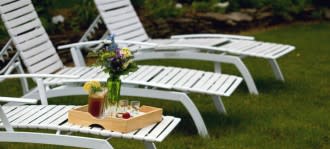 I am SO ready to get my summer on I can hardly stand it! It's the middle of May, Memorial Day weekend isn't that far away - and you know it's full blast after that.
This is a big week for us at the Inn as we prepare to welcome our summertime guests. I love to have everything fresh and ready, so when people step out of their worlds and into mine for some time off, they have wonderful and relaxing experiences. Part of the fun of owning a beautiful place like this is sharing it with other people and helping them renew their spirits.
Here are some both the fun jobs on my list so far:
Bring all the table and umbrellas out of storage.
Wipe down all the balcony furniture.
Weed the front beds and maybe plant grass or put down sod.
Remove the scraggly tree by the side fence.
Repaint some of the wicker.
Mulch the side beds.
Check the air conditioners.
Clean the carpets.
Wash the windows (3 floors of windows!!).
Get more potted flowers for the porches.
Open the pool!!

Don't know if I'll get every one of those finished this week, but Awesome Tom is coming in with reinforcements and I know I'll get pretty close. Maybe I'll save the windows for my brother-in-law Ed. He'd like that, don't you think?!
I am so looking forward to seeing you again this summer or welcoming you into our B&B family. Plan your escape. Pick your favorite room, choose your adventure, then catch the morning on the porch. We'll be right out with breakfast!