July 5, 2016
And Then The Clerk Said, "You Could At Least Give Me SOME Credit."
Posted by: Nancy Skee
Remember that Big Box Store I went into where one time I ripped my pants and another time had appeared in very badly applied makeup? That place that starts with Home and ends with Depot? Well, I went in there again, this time to seek an alternate solution to waiting a month for a part to repair my less-than-a-year-old, still-under-warranty, unusable front-loading washer whose product name starts with May- and ends with -tag.
Well, I was all jacked up driving over. I was mad that I would be without a second washer all summer and laundry would take me 10 hours instead of 5 (I know, First World Problem - sorry) and thought I was going to just be nasty and demand service and and scare the clerks until everyone in the store knew how to demand satisfaction. I would be a spokesman for The People!
By the time I got there, though, I rethought my strategy. I put on my Just Be Nice button and walked into the store, my extend warrantee in hand. Proof of something.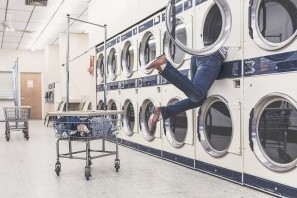 Me: Hi, I bought a washer less than a year ago and it stopped working. I called the number on the warrantee and it's going to take more than a month to get the part. I would like you to replace the washer, please.
Clerk Girl (Scared): I just started yesterday. I'll get a manager!!!!!!
Of course. However, a manager arrived in a few minutes.
Me: Hi, I bought a washer less than a year ago, blah, blah, blah....replace the washer, please.
Clerk Manager: Replace the washer?! We don't replace washers! Did you call the warrantee number? (Talking to Clerk Girl) Sheila, why didn't you tell me this was a washer? I thought it was a refrigerator. Refrigerators are more important than washers!
Me: Really? Would you go around for a month in smelly clothes?
Good times at the coin wash.
Clerk Manager: Oh, well, look! You won't have to. See on the extended warrantee here? We give you $50 to go to the laundromat. You can still do your wash!
Me: Fifty dollars? What can I clean for a month for $50? Five socks and a shirt? And tell me this: how happy would your wife be to schlep your clothes to the laundromat for a month?! I need my washer. I'm running a bed and breakfast. We require clean towels and sheets. Every day.
Clerk Manager: Well, you should call this number and tell them that waiting a month for a part is unacceptable.
Me: I'm telling you that waiting a month for a part is unacceptable. What do you do, sell a product and then who cares what happens? You made your sale and you're happy?
Clerk Manager: That's why we offer an extended warrantee.
Me: So, if I would have bought this appliance at a family-run store like Brubakers, they probably would have done a better job at customer service, right?
Clerk Manager: Well, if it's a matter of a part, if it takes a month, it takes a month.
Me: But chances are they may have been more concerned about resolving the problem?
Clerk Manager: We can only do what we can do.
Me: I see that. Why don't you just slap a tag on the front of the washer that says, "Built Not To Last & We Won't Help You When It Breaks Down." (Okay, wait for it....)
And Then The Clerk Said: You could at least give me some credit for helping you.
Me: NO, I CAN'T! You didn't help me! I could almost give you credit for talking to me, but no, I won't! That's your job - to talk to people and help them with the problems they have with the products your store sells!!!!
See. This is what happens when every kid gets a participation ribbon at elementary school field days. The kids grow up to be adults who expect to get credit for showing up. You don't get a ribbon in real life for showing up!! You actually have to work at doing something well!! You have to earn your credit, Clerk Manager!
Me: Well, I'm going home with my problem unresolved and with great unhappiness with your Home Depot service. Just hope that your wife never finds herself having to hand wash your dirty underwear because your new washer doesn't work and can't be replaced. You will be a miserable man.
Clerk Manager: I'm not married.
Me: ..................
Clerk Girl: Bye. So sorry that happened to you.
Me: Sigh.
So this afternoon I am going to call the Extended Warrantee number, tell them that waiting a month for a part is unacceptable, and we will see what hilarity ensues. This isn't over yet. But remember, when you come to see us this summer at Olde Square Inn, you will have the freshest towels and sheets around. Totally guaranteed.