About Us:
Olde Square Inn is conveniently located on the historic square of this quaint, but expanding, town and is a pleasant departure from hotels. We are just minutes from Highway 283/30 that leads to Hershey, Lancaster, Spooky Nook Sports, the beautiful Amish countryside, and Gettysburg. Amtrak, slotted for a $27.5 million update, is located only two blocks away.
---
A delicious three-course, home-made breakfast is served from 8:30-9:30 and may be in the dining room, the charming side porch, or even the back garden. You might even hear the clip-clop of a horse and buggy moving down Main Street in the early morning.
Looking for something local to do? Walk down Main Street and find take-home treasures in the boutiques and shops, or you can grab lunch or a pastry at one of the many great restaurants that make up our town. Check out what's happening at Bube's for a sure weekend of fun or visit our local winery and sample some delicious vineyard varieties. You'll enjoy our Fourth Friday or the events taking place in town and in the surrounding areas. Take a dip in the pool in the summer or curl up with a book in front of the fireplace in the colder months. Check with your Innkeeper to help you plan your day.
We look forward to welcoming you and making your stay refreshing and renewing. Give us a call, or you can make your reservations directly through our website for an immediate booking. Share a great experience – Gift certificates make a thoughtful surprise for someone you love.
---
About the Inn
This three-story brick Colonial Revival home was built in the early 1920 by Howard G. Longenecker, a prominent Mount Joy citizen, who made his money in banking and tobacco. A family home for years, it later was a boarding house for male teachers in the 1950s and 60s before becoming the bed and breakfast it is today.
The building still retains its distinctive architectural features including original doors, thick mouldings and columns, built-in cabinets, and even a butler's call station in the kitchen. Although you can still see the call buttons in the rooms, the bells are no longer connected to the kitchen, much to the delight of the innkeeper!
The Inn is done in a casual, welcoming elegance. Relax in our large common area, put your feet up, grab a cup of coffee and a snack, and make yourself at home in front of the fireplace. While you're there you might want to look though our DVD library and select a movie to watch later when you escape to your room. In the summer months take a seat on the porch, the grand balcony, or sit poolside – soak up the sun or snooze in the shade, the choice is yours! We know you'll enjoy all aspects of this beautiful Inn.
Meet the Innkeeper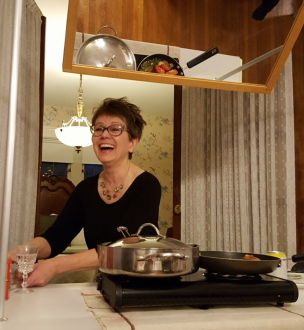 In its 30+ years as a lodging, Nancy is the third Innkeeper at Olde Square Inn and is fulfilling a long-time ambition in becoming its caretaker. Before taking over its operations, she had a great career in teaching and for 24 Septembers led fifth, sixth, seventh and eighth grade students in a variety of studies, including HomeEc.
Prior to teaching she was in business and has a background in interior design, entertaining and theater, with a Masters degree in Training and Development. Nancy feels she's "come home" and says is fortunate to be able to run the Inn with the help of family, friends, and the support of the community. She welcomes you to stay at Olde Square Inn and share in the beauty and serenity of this amazing home.